Kings Monkton School debts: Head Simon Antwis resigns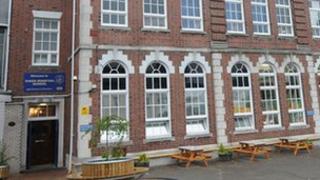 The head teacher of an independent school hit by debts says he has resigned because he has to consider his family and his job security.
Simon Antwis will leave to take charge of another school after just eight months at Kings Monkton, Cardiff.
Kings Monkton is £350,000 in debt and faces closure.
Four years ago CfBT Education Trust invested £750,000 in the school, but says it cannot service the debt beyond October.
Mr Antwis joined the £2,800-a-term Kings Monkton in Wales, last June.
At the time he told pupils and staff he was committed for five years but after the school was put in a "vulnerable" situation he reconsidered.
"I was committed, but I was in the difficult position of having to think about my own family and my own security," he said.
"Principal positions like this don't come up very often. Ideally I would have liked to have had a plan B and give the commitment to Kings Monkton to commit to the five years, but I couldn't.
"The parents at Kings Monkton are lovely people and I think they completely understand the situation I've found myself in. I just felt, selfishly, that I had to think of myself and family."
Mr Antwis said it would have been a gamble to wait until later this year to find out if the school will close.
"If it was closing then I would not have had a job in September and that was a huge conflict and I'm not entirely happy that this is the way it's turned out," he said.
'Tremendous pupils'
"I do regret I was not given the chance to lead a great school. If it was free it would be bombarded. I could not have worked in a nicer school."
Vice-principal Julia Horton will take over as acting head teacher in April.
Mr Antwis paid tribute to the "tremendous" pupils and 60 staff.
"We've only just built the team but we've not got the opportunity to get started," he said.
"We had the resources, the staff had the skills and there is the vision. I just felt the school needed the time. I wish them every success."
Mr Antwis will take charge of St Clare's school in Porthcawl at its Newton campus from the start of the summer term.
Last weekend, parents announced they had drawn up a business plan to save the school and were investigating setting up a private limited company by guarantee as a legal entity to take it forward.
Earlier this month, it was revealed Kings Monkton was losing about £250,000 a year.
Kings Monkton School was formed in 1994 from the amalgamation of two schools, Kings College and Monkton House, both of which were established in the 1870s.