Peter Lewis murder trial: William Jones says victim was armed with knife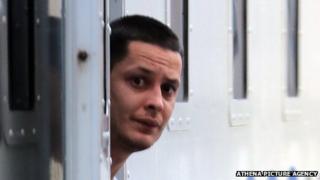 A man on trial for the murder of a vulnerable pensioner has claimed the victim answered the door to him armed with a kitchen knife.
William Jones, 32, from Cardiff said Peter Lewis, 68, waved the knife at him and he grabbed it.
He denies the murder in the city's Roath suburb on 28 April 2012.
Mr Lewis was fatally stabbed in the stomach after he opened the door at 02:30 BST and the defendant then ran off, Cardiff Crown Court was told.
Mr Jones, a drug addict, told jurors: "I rang the door bell bell - it might have been just one long continuous ring or more.
'Druggy people'
"The door opened and Peter came out shouting with a knife and said he was sick of people like me.
"A lot of what he was saying was about druggy people and being sick of people like me.
Mr Lewis waved the knife at him and took a step towards him.
He said: "I though 'What have I done to this guy?' He wasn't lunging at me but took a step.
"I grabbed the knife in his hand and thrust him into the door and he went down. I wasn't aware that the knife had gone into his stomach."
The court heard Mr Jones ran away into with blood on his hoodie and threw the knife away into a scrap metal van.
'Somebody attacked me'
Mr Jones insisted he did not see any blood on the knife, but could not remember where he threw it away.
Earlier, jurors listened to a recording of Mr Lewis's last moments in a call made on his personal panic alarm.
The court has heard he was stabbed opened his door to an enraged Mr Jones, who was searching for his former girlfriend.
"I have been stabbed and I can't get up, somebody attacked me.
"I am on my own, I am on the floor. He knocked me over. A boy hurt me, I need bandaging up. I am bleeding terribly, can you hurry up."
Charity shops
Prosecuting Peter Murphy said the defendant was armed with a knife as he knocked on doors looking for his former girlfriend and her partner.
Mr Murphy said Mr Jones eventually knocked on Mr Lewis's house and "responded to a confrontation with Mr Lewis by stabbing him with the knife he was carrying".
The court heard that Mr Lewis had a low IQ. He lived a busy social life, volunteered at charity shops, was a committed Christian and was described in court as a "champion of people with learning difficulties".
He featured in a campaign picture with singer Charlotte Church in 2006.
Mr Murphy said: "Mr Lewis was partially sighted and had only one eye. He had great difficulty moving at all without the aid of a carer and his walking stick.
"Everyone who knew him found him a kind and generous man. He had no perception of the danger he could put himself in."
The trial continues.