Ysbyty Aneurin Bevan, Ebbw Vale, injury unit future in doubt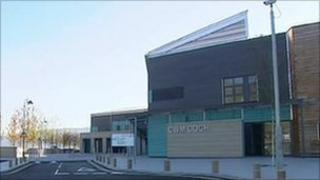 A health board is facing calls to do more to promote a minor injuries unit that does not treat enough patients.
Only 10 people are seen at Ysbyty Aneurin Bevan, Ebbw Vale, each day on average when it should see at least 25.
Local councillor Brian Clements said the two-year-old £53m unit is needed but added there were complaints about the availability of the X-ray service.
A spokesman for Aneurin Bevan Health Board said no decision about the unit's future has been made "at this time".
He added the board is monitoring how many people use the minor injuries unit at the hospital, which is built on the site of the old steelworks in Ebbw Vale.
Named after the founder of the NHS, and the late MP for Ebbw Vale, Ysbyty Aneurin Bevan officially opened in December 2010, replacing two older hospitals in Blaina and Tredegar.
Its minor injuries unit was also hailed as easing pressure on the accident and emergency department at Nevill Hall Hospital in Abergavenny.
It can treat minor head wounds, wounds that need stitching, suspected broken bones, animal bites and stings and minor eye problems.
The unit also offers quick access to X-ray and diagnostic equipment during daytime hours on weekdays and on Saturday mornings.
But just two years after the unit's launch, the health board's finance, performance and sustainability committee has been told it is falling "far short" of the 25 patients per day needed to keep up staff skills.
Health board chairman David Jenkins told the committee in December that the unit was "unlikely" to generate the patients numbers needed and the health board should "look at alternative options".
In 2011, the health board closed three minor injury units that were underused.
But Blaenau Gwent councillor Mr Clements says the health board has not done enough to advertise the Ysbyty Aneurin Bevan minor injuries unit, which is in his Ebbw Vale South ward.
He said: "It's an excellent hospital and an excellent facility, but I have had complaints.
"It is something that is needed up here, if you live up here and have an accident, but they need to make sure that people know about it and that it's staffed properly.
"I've had people tell me that they've gone there for an X-ray and it was closed because staff were on holiday.
"It's pointless if you take someone to the minor injuries unit and they pass you on to Nevill Hall."
A health board spokesman said it was continuing to promote the the unit locally and to highlight that waiting times for patients there would be considerably shorter than in a busy A&E department.
He said: "The health board is seeking to further promote the unit at this time because on average only 10 patients each day are currently being treated at the minor injuries unit.
"The figure of 25 is the minimum necessary to ensure that staff maintain a sufficiently high level of skill to be able to provide a safe standard of care, and this is why the health board has been reviewing activity at the unit."
A health board meeting is expected to be held in early February.