Cynon Valley heroin collapses prompt police warning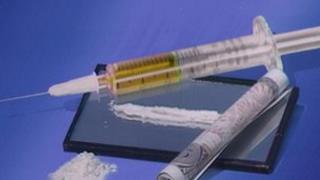 Police have urged heroin users in south Wales to get advice and help after two men collapsed after taking the drug.
Officers say the men, one aged 40 and the other 28, were found in the Cynon Valley on Friday within 30 minutes of each other.
The individuals were found on separate streets in Aberdare and Cwmbach on Friday lunchtime.
The older man is said to be in a life-threatening condition at the Prince Charles Hospital in Merthyr Tydfil.
The second man is also being treated in the same hospital for a suspected drugs overdose, and is described as being in a stable condition.
Police say an investigation has been launched into the incidents, both believed to be linked to heroin use.
A force spokesperson said: "South Wales Police is appealing for individuals, family and friends of anyone using heroin to seek advice from their GP or any one of the substance misuse agencies following two incidents in the Cynon Valley."
The force said the Wales Drug and Alcohol Helpline - 0800 6 33 55 88 - provided a single point of contact for anyone in Wales wanting further information or help relating to drugs or alcohol.
Police have also urged members of the public who are aware of anyone involved in selling or using class A drugs such as heroin to contact them on 101 - or Crimestoppers anonymously on 0800 555 111.