Vigilante Jason Baker jailed for Blackwood acid attack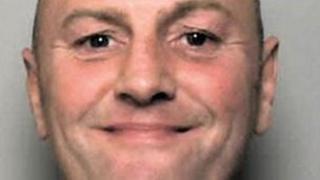 A vigilante has been jailed for five years for ordering acid to be thrown in the face of a man he suspected of being connected to stolen cars.
Jason Baker thought a local man had links to the theft of three cars from a family garage business in Blackwood, near Caerphilly.
Baker told an accomplice to squirt acid from a Lucozade bottle into the face of the alleged car criminal.
The defendant, 41, of Blackwood, was found guilty of grievous bodily harm.
Cardiff Crown Court heard Baker confronted the suspect and said he would return with "heavies" when he pleaded innocence.
He returned two days later, when Baker's accomplice threatened to spray the battery acid.
Judge Eleri Rees told Baker: "You gave the go-ahead."
She described how the attacker opened the Lucozade bottle and sprayed acid into the victim's face.
"He knew it was battery acid. His eyesight was blurred and he had difficulty breathing, but managed to douse himself," she said.
Jailing him for five years, the judge added: "It is clear the attacker was waiting for your instructions.
"It may or may not be true that he was involved in criminal activity but nothing justified the use of violence or taking the law into your own hands.
"The proper course would have been to give that information to the police."