Wanted Facebook man on-the-run caught by Gwent Police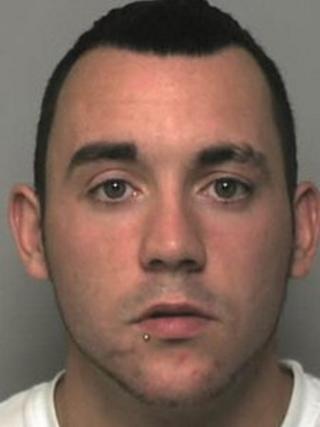 An on-the-run man who taunted Gwent Police on Facebook by saying "catch me if you can" has been arrested.
Detectives say Alan Watkins, 24, breached his licence conditions after serving time in jail.
Watkins, from Newport, who was released from prison last May halfway through a 19-month sentence for causing actual bodily harm, posted comments on Facebook for his friends to see.
He wrote: "Wow, I'm on the Gwent police site. You catch me if you can."
A Gwent Police spokesman said: "Alan Watkins, who had breached his licence conditions after being released from prison, has been arrested and will be returned to prison custody."
Officers confirmed on Monday that he was being sought.
'Naughty step'
Watkins then took to the social networking site taunting officers trying to track him down, suggesting he may fly off to Spain.
He wrote: "Catching me is like keeping up with Usain Bolt, impossible. I'm off now, adios amigos.
"I'm too fast for them, trust me," and "I aint getting caught," he boasted.
Watkins' Facebook account states he is a plasterer and his current location was "on the naughty step".
He pondered whether he should give himself up, writing: "Well what should I do today, hand myself in or enjoy my freedom a little longer.
"Freedom...prison...freedom...prison...freedom or prison? That is is the question."