'Sexsomnia' claim actor Simon Morris jailed for raping teenager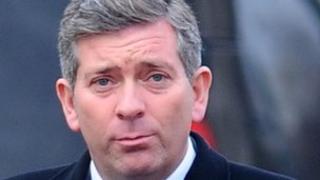 An actor who claimed he was suffering from the sleep disorder sexsomnia when he raped a 15-year-old girl after getting her drunk has been jailed for eight years.
Simon Morris, 42, who has appeared in the TV series Hollyoaks, had claimed to be fast asleep and said he could not remember the attack at a house party.
The judge at Cardiff Crown Court told Morris, from south London, he had "told an endless number of glib lies".
Morris was found guilty in December.
The trial of the Newport-born actor heard he helped his victim pour champagne before sneaking into her room at 6am and raping her.
Morris denied it was rape, pretending he had no memory of sex because he was asleep.
'Lies'
He said: "I have a history of sleepwalking, checking my phone, gyrating against door frames and having sex with partners in my sleep."
But Judge Daniel Williams told him: "You told an endless number of glib lies which you hoped would win over the jury.
"But they saw through your lies and saw through you.
"You were unrelenting in your pursuit of your victim. You tried to chat her up, boasting about your career in acting."
The judge said he played the role of nice guy, using his acting skills.
No remorse
"But there is another side to you - a side that you are unable to recognise how your victim was drunk and vulnerable.
"Your defence was that you were asleep. You have shown no remorse and the only thing that has burdened you is self-pity."
The prosecution said Morris's claim that he suffers from sexsomnia was a "feeble excuses to escape the inevitable".
Prosecutor Sue Ferrier said: "Morris took an interest in the girl - winking at her, helping her pour drinks and even offering her to stay with him in London."
She said the girl got drunk on cocktails and her father put her to sleep upstairs.
"The girl's father tried to wake his daughter at 6am to go home, but as she was fast asleep he left her in the bed for the night.
"By 6.30am the girl was crying rape."
Morris was examined at the Edinburgh Sleep Centre to discover if he has sexsomnia - the medical condition where people engage in sex acts while still asleep.
Psychologist Chris Dzikowski, the centre's director, said after monitoring Morris's sleep patterns in the laboratory, he found the features displayed were consistent with sleepwalking.
But he said: "It is a possibility that in this case he was suffering from sexsomnia - I cannot exclude it."
Morris appeared in Michael Caine film in 2000 film Shiner, TV soap Hollyoaks in 2001, and on the West End stage between 1996 and 2006.
He blew a kiss to his girlfriend as he was led to the cells.
Morris was ordered to register as a sex offender for life.