Twitter turns cancer-free Alex Baston into global hit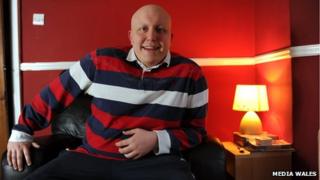 A teenager who announced on Twitter he had beaten a rare form of cancer has become a global internet hit.
Alex Baston, 17, from Penarth in the Vale of Glamorgan, had his message retweeted more than 9,300 times.
The St Cyres School pupil, who was diagnosed with Ewing's sarcoma a year ago, had a tumour weighing 9lb (4kg)removed from his thigh.
Last Thursday, Alex tweeted: "Had my results and today is the day I've officially beaten cancer!!!!"
After realising his euphoric tweet had gone worldwide, Alex said: "It was nice to see that people took time out of their day to congratulate me.
"And it was something happy, for once."
Just over a year ago, Alex discovered a lump on the inside of his right thigh.
He said: "I was messing around with my mates and I hit the sofa, it hurt and I found this lump."
Alex's GP immediately referred him for a scan which was followed by a biopsy.
In February 2012 Alex was diagnosed with Ewing's sarcoma.
It was an aggressive and fast growing tumour that was removed following two sessions of chemotherapy.
Alex said: "After that I had another 12 sessions of chemo. The treatment was pretty bad - I had to stay in hospital for four days every time I had it, but as soon as I went home I felt better."
Following a year of treatment, Alex was with his best friend while he waited for the call from his mother, Joanna, to tell him whether he had beaten the disease.
"I knew there had been no change in my leg and I didn't feel unwell," he said.
"I felt confident but when my mum rang I felt like the world had been lifted off my shoulders - I felt the most relaxed I had been in a year."
Alex, who also has rods in his neck and back following an operation for scoliosis, celebrated by going swimming, something the water polo player had not been able to do since diagnosis in case he caught an infection.
A-level student Alex said: "It felt really good, I had really missed it."
Joanna Baston admitted waiting for the phone call from Alex's consultant was "horrendous".
She said: "That was the worst part of the whole thing - the waiting. I'd taken the dog for a walk that morning and I felt like something was pressing down hard on my shoulders all the time.
"Simon, my husband, rang and was told they were clear and I have never cried like it - I couldn't pull myself together."
Mrs Baston, a nurse, called her son and "blubbed" down the phone his results were clear.
She said: "I would just like other parents out there who are going through the same thing that there is a huge light at the end of the tunnel."
The family, including Alex's brother Ben, 16, and sister Millie, 14, is looking forward to a holiday to Florida in October, courtesy of the Make a Wish Foundation.
Mrs Baston said: "I am so, so proud of him and the way he has dealt with this."
Alex also paid tribute to the Teenage Cancer Trust Unit at the University Hospital of Wales, Cardiff.