Michelin-starred Crown at Whitebrook closes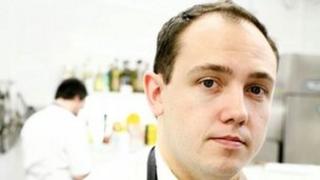 One of Wales' top restaurants has been forced to close because of financial difficulties.
The Michelin-starred Crown at Whitebrook in Monmouthshire, which also had a small number of rooms, has shut its doors with immediate effect.
People with bookings were informed by email earlier on Wednesday. Twenty staff have lost their jobs.
The Crown was named the best restaurant in Wales in The Sunday Times Food List 2012.
Its executive chef is James Sommerin from Caerleon. It holds three AA rosettes and gained a Michelin star in 2007 which it has held ever since, longer than any other Welsh restaurant.
The restaurant is located near a tiny village in a narrow valley off the River Wye.
'Cash flow'
Ceri Williams, personal assistant to managing director Michael Davies, blamed the closure on the snow and freezing weather, as well as the state of the economy.
She described the failure as a "tragedy".
"We closed as usual over the Christmas and New Year. But when we reopened it was in the middle of the snow. We are really quite remote here," she said.
"It was just cash flow."
Fellow chef Stephen Terry, from the nearby Hardwick restaurant, said the closure was "very sad for cooking in Wales" as well as for Mr Sommerin, his family and the company which ran the Crown.
"It's a small restaurant, a very fine dining restaurant, but unfortunately restaurants like that don't always make a huge amount of money," he told BBC Radio Wales.
Mr Terry, who himself won a Michelin star at a previous restaurant, said the award can sometimes be a burden in deterring customers who believe it signifies expensive and pretentious food.
Commiserating with Mr Sommerin, he said: "If there's any scrap of self comfort to take from this tragic situation it's that he never lost the star - for a chef that's catastrophic.
"These are circumstances that are clearly beyond his control."