Ebbw Vale group helps abandoned horses on Manmoel Common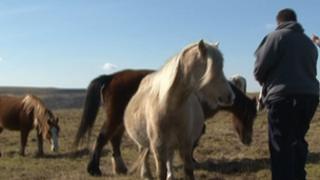 Volunteers are trying to help abandoned horses and ponies near Ebbw Vale after several animals died of starvation.
Animal welfare charities claim that without continued feeding from passers-by more horses on Manmoel Common are likely to die, following lack of food after last year's bad weather.
Some mares are pregnant and the RSPCA says it is extremely concerned about their welfare.
The site is common land and is used to graze sheep.
It is thought eight animals died recently and a vet was called on Thursday afternoon because many of the remaining ponies were struggling to stand.
Donations
Animal charities are trying to care for the animals, and have received hundreds of pounds in donations from local people.
Philip York, from Barnsby Home of Rest for Horses in Leominster, Herefordshire, said: "This situation here is replicated across south Wales.
"Large numbers of ponies are dying because of a lack of food, when they're sick they're not being attended to."
Mr York, who travelled to the common to help, added: "We need to do something to alleviate the suffering of these animals."
RSPCA spokeswoman Elaine Spence said: "Wild ponies in Wales are suffering because the weather last year meant they could not get enough feed to fatten themselves up for winter and the current cold spell has stopped the spring grass growing.
"This is of great concern to us and we are trying to do all we can to help."
'Increasing problem'
A Blaenau Gwent council spokesperson said the dead animals were being disposed of "as soon as is reasonably practicable".
"Our joint policy on horses is that we do not involve ourselves in equine issues not associated with licensed/licensable or agricultural premises.
"As such, we do not routinely deal with fly grazing/horse abandonments on commons, nor do we have the resources to do so.
"We do however recognise that this is an increasing problem in Wales and that there are horse charities that do get involved in these instances.
"We are contacting them in relation to the horses at Manmoel."