Metro train vision for Cardiff and rest of south Wales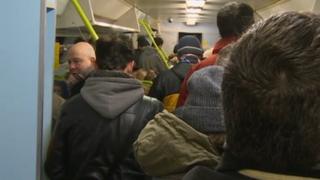 A new report on how Cardiff and the surrounding areas of south Wales could develop a metro-style train system says it is a chance to rethink the economy.
The Metro Consortium report sets out plans for a valleys "circle" line, linking Rhymney and Merthyr and Pontypridd.
The proposals also envisage a tram service criss-crossing Cardiff itself.
It is the second report from the body, with members including some of the biggest businesses in south Wales.
The first report, published in 2011, focused on the capital city, while the new report widens out the remit - encompassing a transport system that takes in the south Wales valleys and Newport.
It follows on from the UK government's agreement to electrify the Great Western mainline to Swansea, and the prospect of electrification of the Valleys Lines to follow.
The author of both reports, Mark Barry, said: "Despite the good news about electrification, the one thing that has not changed is the economic challenge and the need to stimulate the economy.
"There is widespread recognition that a modern public transport system - a Metro - is an essential component of, and often the catalyst for, a modern city region economy".
The report recommends:
A valleys circle line, linking the Rhymney and Merthyr lines via Nelson, and allowing Pontypridd to develop a pivotal role in the regional economy.
A Cardiff crossrail, using tram-train technology, to fully connect the city to its centre, the bay and to the wider the region.
A cross valley bus rapid transit system to address poor connectivity between places like Merthyr and Ebbw Vale.
A major upgrade of connectivity between Newport and Ebbw Vale to help the regeneration of both.
The Metro Consortium, which includes businesses such as Admiral Insurance, British Gas, and Capita Symonds, is also backed by policy big hitters such as Cardiff Business School, the Cardiff Business Partnership, and the Institute of Welsh Affairs.
David Stevens of Admiral Insurance and the Cardiff Business Partnership said: "This is the part of the region that must attract and nurture the high value knowledge businesses that are common in successful city regions across the world, but are currently under-represented in Cardiff.
"We must help Cardiff compete more effectively with cities across Europe."
The report is also proposing that a 'delivery authority' is set-up to make the metro dream a reality - as well as tackle the biggest obstacle - funding.
Consortium member Chris Sutton, of global property managers Jones Lang LaSalle, added: "The Metro Consortium hopes that this report and the expertise and experience its members possess, can be utilised to assist the Welsh Government, local authorities, regional transport consortia and relevant task forces as they develop and progress the Metro concept."
The report is being published ahead of a conference in Cardiff next week to discuss its findings, hosted by Cardiff Business School and the Institute of Welsh Affairs.