Nantyglo waste site: £70,000 clean-up starts after fire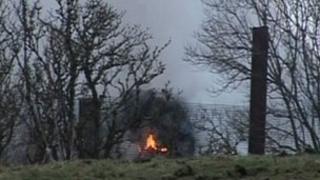 A £70,000 clean-up operation has started near the site of a waste fire which burned for 10 days in Blaenau Gwent.
The Environment Agency says it may use its powers to recover the cost to the public purse.
Skip hire firm A Lewis and Co told BBC Wales last week it believes the fire at its Nantyglo site was arson.
The owners say they are not responsible for clearing the leftover waste as it has been moved from their land.
The waste now being removed had been transferred onto nearby council land, as fire-fighters attempted to tackle the blaze in January.
Local residents had voiced concerns about the remaining waste causing problems with rats and creating a bad smell.
The Environment Agency says responsibility for removing the waste still lies with the operator of the facility.
But because this has not been done, it is stepping in to prevent any further risk to local people or the environment, and to prevent further fire risk.