Monmouthshire patients 'forced to use Welsh hospitals'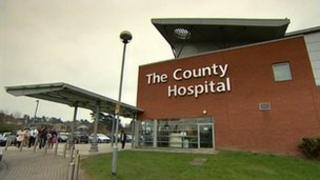 Some patients claim they are being forced to use "rundown" Welsh hospitals rather than more convenient English hospitals with better facilities.
The Monmouthshire residents say new cross-border rules mean the Welsh government is "dictating" where they can receive hospital treatment.
One patient said waiting times were also longer at Abergavenny and Newport.
The Welsh government said health boards could allow routine treatment outside the area in some circumstances.
David Lambert, who is from near Monmouth, was recently treated for skin cancer in Hereford and has developed further prostate problems.
He said his GP had requested an appointment for him to see a specialist at County Hospital in Hereford but Aneurin Bevan Health Board refused.
He has been told he can be treated at Nevill Hall Hospital in Abergavenny and has been waiting for an appointment.
"It is much more convenient for me to go to Hereford and I am very pleased with the treatment I've had in the modern and clean County Hospital," he said.
"In my opinion, the facilities at the rundown hospitals in Abergavenny and Newport simply aren't as good and the waiting times are much longer."
Two friends - Kate Finn, 37, and Tara Ballard, 32 - face a similar issue. They both live in Monmouth, have rheumatoid arthritis and have been treated in Hereford for several years.
Mrs Finn said she felt her views and not been taken into consideration.
Mrs Ballard added: "We aren't being treated as individuals, just numbers."
'Extremely unfair'
The issue has been highlighted by their Conservative MP, David Davies, who said that until September last year, GPs in the Aneurin Bevan Health Board area could refer patients for treatment in England.
But he claimed new cross-border rules meant that it was no longer possible and patients had to be referred to hospitals locally or, if that was not possible, elsewhere in Wales.
The Welsh government said it had made it clear that it was the responsibility of health boards to "secure high quality, safe care for their residents as close to a patient's home as possible, while taking into account the needs of the community as a whole and making best use of their resources".
"Each health board is reviewing services to achieve this," said a spokesperson.
"Where they feel the patient's circumstances and clinical need justify this, health boards do have the flexibility to refer patients outside their area."
Aneurin Bevan Health Hoard said its policy for referrals had been developed to "secure high quality and sustainable services for patients."
It said in a statement: "Aneurin Bevan Health Board has the responsibility for securing services for patients registered with GP practices in our area and in doing this we apply Welsh NHS standards and policies.
"Patient choice is an English NHS health care policy and is not the basis of our health system in Wales."
However, the health board said a process existed which allowed for requests for care for routine treatment outside the area, and they were considered "on an individual case-by-case basis".
"Circumstances such as continuity of care, travel distance, and access to hospitals are considered for each request, enabling cross-border referrals to be made if the patient's treatment is better served at a hospital outside of Aneurin Bevan health board," it said.