St Ederyn's: Persimmon plans 1,000 homes near Pentwyn, Cardiff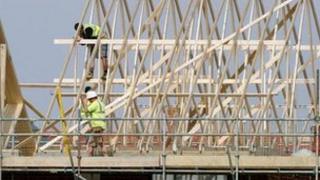 More than 1,000 houses could be built in north east Cardiff after plans were unveiled by a developer.
The homes, to be known as St Ederyn's Village, would be developed on land surrounded by junction 30 of the M4, the Pentwyn link road and the A48 Eastern Avenue.
Persimmon Homes also wants to build a school, shops, play areas and allotments on the site.
The plans would tie in with Cardiff's bid to have 45,400 new homes by 2026.
Persimmon Homes regional land director Andrew Crompton said it would meet the demand for more family housing in the city.
"The scheme will also deliver a new primary school and the creation of an attractive riverside park with playing fields," he said.
Persimmon's plans have been submitted to Cardiff council for outline planning permission.
The development would be named after the 6th Century monk St Edeyrn, who also gives his name to the nearby Llanedeyrn estate and its parish church.
In October 2012, the council approved draft plans for the largest expansion of the city for more than half a century.
The biggest single proposal is for 7,500 homes in a new suburb west of Pentrebane and about 6,000 and 2,000 earmarked either side of Pontprennau.
A further 2,000 homes could be built on land north of junction 33 of the M4.
The city's draft Local Development Plan preferred strategy states that about 40,000 jobs are planned by 2026 - a rise of 20%. The financial and business services are expecting a huge boost with 55% new jobs.
By then it is expected the capital's population could be as high as 408,000, a rise of 26%, according to the report.