Llanishen reservoir: Homes plan appeal rejected by Cardiff Council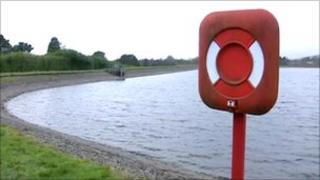 Plans for hundreds of homes on the site of a reservoir in Cardiff have been rejected by the Welsh government.
Western Power Distribution (WPD) has been battling for more than a decade to build 324 houses at Llanishen reservoir.
But Housing and Regeneration Minister Carl Sargeant has now rejected a planning appeal.
Campaigners and local politicians welcomed the decision but WPD refused to comment.
The reservoir has not been used since the 1970s but campaigners say it has become a nature habitat and is also important for its engineering heritage.
Cardiff North AM Julie Morgan welcomed the refusal and called for the reservoir to be refilled.
WPD has been engaged in a long-running planning battle with Cardiff council over its plans to develop Llanishen reservoir, which includes proposals for homes and areas of conservation.
Campaigner Andrew Hill from the Reservoir Action Group said it was "brilliant news".
He said: "It's the most definitive result we could have asked for."
Mrs Morgan welcomed the refusal and called for the reservoir to be refilled.
She said: "I fully support the decision to refuse the planning appeal at Llanishen reservoir, which is in line with long standing local and national planning policies.
"It is the right decision and I hope that, after 11 years, this saga can finally be brought to an end."
Mrs Morgan called on PPL Corporation, which owns WPD, to join forces with Cardiff council to help secure the site's future.
Liberal Democrat AM Eluned Parrott said: "This is great news for the residents of Cardiff and in particular those who have been fighting this for well over a decade and it just goes to show that residents voices can and are heard by the corridors of power."
In February 2011, the High Court in London overturned Cardiff council's decision to designate the land for nature conservation.
The council had designated the land under the National Parks and Access to the Countryside Act 1949, which gave priority to nature conservation over public access and recreation.
But the Public Health Trust Act 1875 already imposed a statutory trust over the land, giving priority to public access and recreation.