Pye Corner, Newport, railway station secured with grant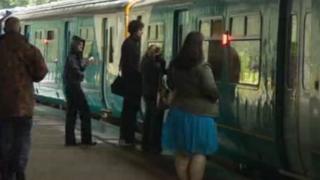 Newport is to have a new railway station, Pye Corner, on the line between Cardiff and Ebbw Vale after the UK government awarded the scheme £2.5m.
The station, in the Bassaleg area of city, is expected to ready by the end of 2014, in time for the line's planned electrification.
The Welsh government is adding £1m to complete the project, a single platform and a car park with 70 spaces.
Last week it announced £11.5m funding for a new Ebbw Vale Town rail station.
Pye Corner was described in March as a "front runner" for a share of a £20m Department for Transport fund towards new stations.
The Ebbw Vale line has been re-opened since 2008 and is among the south Wales valleys and commuter lines to be electrified sometime between 2014 and 2019 as part of a £350m investment.
The Ebbw Vale Town station will be a single platform at the Works, on the redeveloped steelworks site.
'Stimulate growth'
It will involve laying tracks for just over a mile from the existing Ebbw Vale Parkway, and will also be made ready for electrification.
Economy and Transport Minister Edwina Hart said: "These two new stations will greatly improve access to public transport, and help stimulate economic growth by linking to the region's wider transport system."
She said new town centre station would allow more people in the area to walk or cycle to catch the train rather than to drive to the parkway station.
The south east Wales regional transport consortium Sewta played a leading role in bidding for the developments.
Its chairman, Andrew Morgan, of Rhondda Cynon Taff Council, said they would "reap great dividends" for the area.
"These projects will increase employment opportunities by linking with two enterprise zones, one in Cardiff and one in Ebbw Vale, in a sustainable way by modern rail, just in time for electrification with its faster journey times," he said.
"More commuters will be able to leave the car at home and walk or cycle to the new station."