Cardiff Bay ice arena: Next phase of sports village unveiled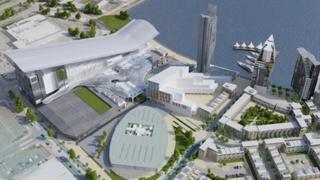 The next phase of Cardiff Bay's International Sports Village has been unveiled.
Developers cut the turf for a £16m twin ice rink centre on the site which will also include a new snowdome, a hotel, public plaza, apartments and restaurants.
The 3,000-seat ice arena was given planning permission by Cardiff council earlier this month.
Construction of the centre is expected to start in August.
The ice rink is the first phase of a £250m scheme, which includes an indoor ski slope and shopping centre.
A 32-storey tower, luxury hotel and 800 new homes, and offices are also included in future planned phases.
Reputation
Work on the first phase will include two ice pads and the main rink will be used to host Cardiff Devils matches.
Cardiff council leader Heather Joyce said: "This development will not only look fantastic but will also create thousands of jobs, attract tens of thousands more visitors to the city and provide homes - including affordable homes - for people in Cardiff.
"The end results will be state-of-the-art facilities that everyone can use, including, crucially, two ice rinks which will provide a new home for the Cardiff Devils and offer people a range of winter sports to try out.
"This will all go a long way to enhancing Cardiff's reputation as a world-class sporting capital city."
Cardiff council broke off its deal with Planet Ice, which won the initial tender for the development, in a row over funds.
The sports village currently has a 50m pool, white water facility and temporary ice rink.
The old Wales National Ice Rink in Cardiff city centre, which opened in 1986, closed in 2006 to make way for redevelopment.