Slabs thieves target more properties in Pontypridd area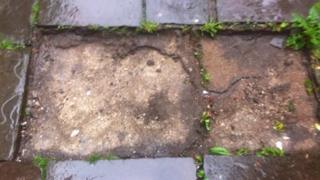 Thieves who stole historic flagstones from a museum are targeting homes and gardens across the area, police warn.
About 200 stones dating back to 1780 were lifted from Nantgarw Chinaworks Museum, Rhondda Cynon Taf, at the start of the bank holiday weekend.
But thefts have continued in the past few days with one woman losing 54 slate and stone slabs from her garden.
South Wales Police said: "Paving slabs are literally being ripped from the floor and transported away."
Museum trustees have condemned theft of its historic flagstones, worth an estimated £10,000.
It came as the Nantgarw porcelain works was celebrating the 200th anniversary of its opening.
Similar thefts have taken place in Pontypridd and nearby Rhydyfelin since the museum theft on Friday or Saturday.
Gina Oatten woke up on Tuesday to find large parts of the drive and front garden of her former canal lock cottage had been targeted.
Almost five dozen former church slate and stone slabs which were an estimated 200 years old were stolen.
The thieves pulled up the flagstones, stacked them and then loaded them in a vehicle so quietly they did not disturb her dog.
She said: "I cannot believe how much it has upset me.
"I didn't hear anything. I've got a big dog and she didn't hear anything either. The main part they dug up is under my bedroom window.
'Be vigilant'
"They took the best ones. They took big ones. They took all the right-shaped ones - that would make a nice patio - and left the cracked ones.
"It's a real shock to get up and find half your garden missing. I will never be able replace them. It will never be the same."
Insp Nigel Griffiths said: "These thefts cannot be committed discreetly. There is serious work involved with the removal of up to 200 paving slabs for example.
"For nobody to have been alerted is quite remarkable.
"People need to be vigilant, and if they notice something that doesn't seem quite right, then they should call us straight away.
"We would rather be making 20 checks per week resulting in one arrest, than not make any at all."