Cardiff City fans vote for new black shorts after row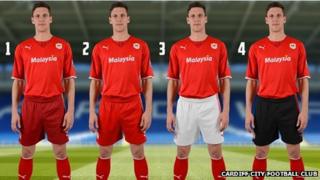 Season ticket holders at newly promoted Cardiff City have told the club they want players in black shorts in the Premier League next year.
They were given the chance to vote on the shorts - after an original design was panned by critics on social media.
The home shirt remains red, while the club let supporters choose white, black or two other tones of red shorts.
The club's official Twitter feed revealed on Friday that the fans had opted for black shorts.
The decision to put the kit question to a vote came after a backlash against the initial design unveiled on Wednesday.
It put players in a red shirt with an even darker red pair of shorts.
"Looks like the dye has run out of the shirt to match the shorts," wrote one fan on an online forum.
"Seeing that kit has killed me, I can handle the red but two different colours - that's wrong," said another.
Club officials swiftly responded: "A large number of supporters were unhappy with the choice of colour concerning the shorts," they stated on the club's website.
Back to black
"For that we apologise."
The complaints over the new kit design follow the dispute sparked last year when the club's Malaysian owner Vincent Tan rebranded Cardiff City and switching the blue shirts of the Bluebirds to red.
Following the row over the new kit, the club offered then season ticket holders the chance to email officials and spell out their preference for colour of the new shorts.
On Friday, the club posted the results on Twitter: "The votes have been tallied & verified, with the majority winner, as voted by season ticket holders, being black shorts for #CardiffCity."
It is the same colour as the team wore during its title winning Championship season, ending with promotion to the Premier League.
Officials have indicated that they will now liaise with kit makers Puma to put the strip into production "as quickly as possible".