Tony McGuire admits sledgehammer Cardiff house attack in ownership row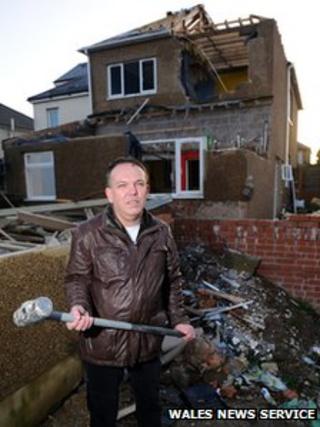 A father-of-six has admitted smashing up a £300,000 house with a sledgehammer.
Tony McGuire, 49, caused £120,000 worth of damage to the semi-detached house in Manor Way, Birchgrove, in Cardiff.
He had fallen out with his brother and sister over ownership of the property and had posed for photos outside the battered property.
McGuire pleaded guilty to criminal damage at Cardiff Crown Court and will be sentenced later this month.
Judge Daniel Williams told him: "You pleaded guilty and you will receive credit for this in due course.
"I cannot proceed to sentence you today and will adjourn for a pre-sentence report.
"Do not think this adjournment is an indication of sentence, all sentencing options remain open to the court and this includes custody."
Electrician McGuire and his family have moved into a property two miles away.