Burton's Biscuits safeguards Llantarnam jobs with £4.6m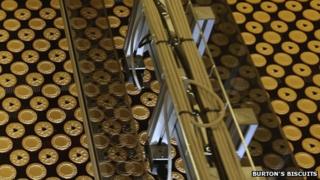 The biscuit maker Burton's has announced it is investing an extra £4.6m at its south Wales site.
The factory at Llantarnam near Cwmbran, Torfaen, is one of the company's three UK production sites, and has been chosen to pilot new control room baking systems.
The new money brings the investment at the plant to nearly £7m since 2012.
The site employs 800 people, where nearly two tonnes of Wagon Wheels are made every hour.
The Llantarnam plant also produces Cadbury's Fingers, Jammie Dodgers and Maryland Cookies.
"It's crucial that we monitor production very closely, and the new technology we've deployed allows us to do this, as well as providing an opportunity to upskill employees," explained the site's general manager, Wayne Thompson.
"Continued investment in our manufacturing capabilities is central to Burton's ability to bring new products to market quicker than any other company in the biscuit market."
The Torfaen factory has been baking biscuits at Llantarnam since 1937.
"With over 800 employees - spanning three generations in some cases - Burton's is a key local employer," said the Torfaen MP Paul Murphy, who will tour the biscuit factory on Friday.
"An investment of this size underlines the company's commitment to Llantarnam, and developing new skills in the local workforce."
Torfaen AM Lynne Neagle added: "it's great to see such famous and iconic products being produced here for consumers all over the world."
Burton's say the technology being introduced at Llantarnam is a first for the biscuit industry, and uses control room systems first developed for the automotive and printing sectors.
The new investment is part of £13.5m being spent throughout 2013 at its Welsh site, and factories in Edinburgh, Blackpool in Lancashire, and at Moreton in Merseyside.