Estuary Court: Business park holds back economic tide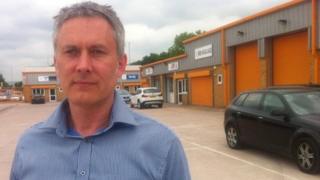 Opening a £3m business park at the start of the worst economic period for decades may not strike most people as a sound investment.
But Newport businessman Simon Williams did exactly that when he unveiled Estuary Court in his home city amid the doom and gloom of the credit crunch in 2008.
The plans were drawn up in 2004 during a more favourable climate but Mr Williams, managing director of Storage Giant which owns and manages the site, was not about to back down.
It appeared to buck the economic trend, soon filling all the units and attracting 18 businesses offering everything from dog grooming to car parts, as the BBC News website discovered on a visit in 2009.
In the wider world, the following years brought some of the most difficult trading conditions since the 1920s so you might imagine Mr Williams recounting a tale of struggle and strife.
But you would be wide of the mark.
"Not one company has gone bust. We've not had a single insolvency," he said.
"All the larger tenants from 2008 who occupy the largest amount of floor space... are still there."
He said there had been "some churn" among a few of the smaller businesses but all the units continue to be occupied.
"Most people would say I should be surprised but I would say a lot of it is a function of how hard we work," he said.
"I work 15-hour days, six days a week.
"We put a tremendous amount of effort not just into maintaining the estate and keeping tenants happy.
"When a lease comes to an end we go to great lengths to make sure it is let."
Away from Estuary Court, the self-storage side of his business is also going from strength to strength with sites established in Cardiff, Swansea and Newport, and others in the pipeline.
But despite this undoubted success story, perhaps more of an insight into the current economic climate can be found from some of the smaller tenants on the business park.
Camper vans
The message appears to be they are surviving and making a living but it is not easy.
Mike Watson, 38, and his wife Kim gave up their jobs to set up VW Dubs and Bugs Restoration - where they restore and service classic vehicles, particularly Volkswagen camper vans - at Estuary Court less than two years ago.
"Over the last year it's been up and down and you are thinking 'why have I done this, should I jack it in?' then the next thing you know you've got three or four customers ringing you up," he said.
They have now taken on a second member of staff and Mr Watson is looking ahead with some optimism.
"Our figures for last year seem to be good and we're not in debt," he said.
"We more or less broke even for our first year. We're now into our second year and we will pick up on the mistakes we made in the first year and try to improve and offer a better service."
Towards the other end of the business park is one of the original firms, RespiSafe industrial health and safety, which is a mini success story in itself.
The firm consists of husband and wife Sue and Paul Hillman, who also now employ their 19-year-old son Lewis.
"We've been here since it opened. We started off in a unit which was half the size of this one and moved to this one two years ago," she said.
"We've got a bit bigger. We outgrew the unit we were in. It's not been too bad.
"I can't say it's been brilliant, I can't say it's been awful. We've maintained a nice steady business."
She is positive but admits the economic climate is "quite worrying" and says the main aim in the future is "staying in business".
"Our turnover did pick up a little bit last year and we're on target to keep up with last year so fingers crossed," she said.
Another of the original firms, albeit under a new owner, is the pet grooming and supplies business now called Canine Corner.
Val Bevan, 57, who has been in this line of work for 40 years, has a business in Cwmbran and took over the Estuary Court pet grooming operation about three years ago.
She is about to employ new staff but admitted there had been difficult times.
"Dog grooming can be affected by the weather. When it's cold it can be quiet but this time of year it's busy," she said.
"I'm taking on a new person soon, to be based here, and I'm taking on two new ones at the other shop as well.
"We're okay, I can't complain."