Newport hair salon gunman Darren Williams: Suicide verdict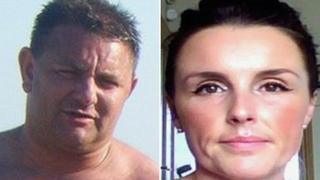 A man called "jealous, controlling and possessive" by his estranged wife shot her in a hair salon after hearing she had been unfaithful and hanged himself hours later, an inquest has heard.
Darren Williams, 45, injured Rachel Williams and two others in the attack in Newport in August 2011.
He was struggling to cope with divorce and was taking anti-depressants and steroids, his inquest heard.
The coroner returned a suicide verdict "as a result of an imbalance of mind".
Mr Williams had begun taking medication following his brother's suicide some years earlier.
The court heard written evidence from Mrs Williams stating that she had met Mr Williams in 1993.
Her husband worked as a doorman and a lorry driver, visited the gym and took steroids regularly.
She said she had suffered domestic abuse during their relationship.
Mrs Williams had persuaded her husband to see a counsellor following his brother's death, which he did.
However she started divorce proceedings on 2 August 2011, 17 days before the attack and Mr Williams' death, because she said he cut his wrists in front of their 16-year-old son Jack.
Jack Williams was found hanged in the same woods as his father a month after his father died. His inquest will be heard on Thursday.
The court also heard that Mrs Williams began an affair about the same time with a man who had previously worked as her husband's solicitor.
Mrs Williams' statement said: "I considered my marriage to be over and started divorce proceedings. Then while on a night out I met a man, a solicitor, who had in the past acted for Darren on criminal matters.
"I was unfaithful to my marriage vows with this person. One of Darren's friends had learned about my brief affair and had threatened to tell Darren if I didn't.
'I thought he was going to kill me'
"I did not tell him but I believe someone must have done."
Police were called to Carol Ann's hair salon on Malpas Road where Mrs Williams worked at about 14:30 BST on 19 August after shots were fired.
Mrs Williams said: "Darren came with a black gym bag and pulled out a sawn-off shotgun.
"I immediately thought he was going to kill me and shouted: 'Dar, no'. He hit me across the head with the butt of the shotgun and I fell to the floor.
"I brought my leg up to protect me and he fired the first of two shots from point blank range. Then he discharged the second saying: 'Rachel I love you.'"
The inquest was told Mrs Williams had wrestled the gun from her husband before he ran out of the salon.
The attack left her with serious injuries, needing an immediate 10-hour operation to save her left leg and later extensive reconstructive surgery.
Mrs Williams described her husband as "jealous, controlling and possessive".
She said: "As long as he got his own way he was okay. He was intimidating and knew that where I was concerned he could do what he liked.
"Darren was on steroids and anti-depressants which made him violent and unpredictable."
The court heard Mr Williams was on bail for domestic assault charges when he died.
'Blamed himself'
His sister Rachael told the hearing: "Darren was told about the infidelity on his birthday, the 10th of August. I can only imagine his reaction - devastation.
"Before that he had blamed himself for the breakdown of the marriage."
Det Insp Justin O'Keefe said: "Rachel had a liaison with a man who was known to Darren. This man had acted as his solicitor in the past.
"On Wednesday August 11 Darren we received reports he was on his way to kill that solicitor and he was arrested."
The inquest heard if he had not killed himself Mr Williams would have been charged with attempting to murder his wife.
Mr Williams's other sister Lisa Edwards said the day before the shooting he had told her: "I'm going to get Rachel back for what she did to me.
"I'm going to get my revenge. I don't want to kill her, I want to shoot both of her legs. I'm going to go bang bang."
Gwent coroner David Bowen said Mr Williams' death was a result of his own unassisted action.
He said: "Whether it was due to the realisation of the enormity of what he had done, the irreparable breakdown of his marriage, his wife's infidelity or his previous involvement with the police it is unnecessary for me to decide."