Cwmcarn High pupils may return in autumn after asbestos removal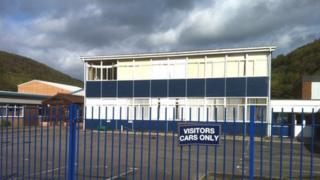 Pupils at a school forced to close because of asbestos could return in the autumn after the local council agreed to remove the material.
Cwmcarn High School, in Caerphilly county, shut in October 2012 over fears that its 900 pupils were at risk.
They have since been taught 12 miles (19km) away at Coleg Gwent's Ebbw Vale campus, prompting parents' protests.
Caerphilly council will pay £1m to deal with the asbestos, with pupils expected back for the autumn term in September.
The agreement for the local authority to carry out the work follows frustration among some that a deal had not been struck with the school earlier.
The council had blamed "lack of progress" by decision makers at Cwmcarn High while governors claim the council has introduced "onerous terms and conditions".
A statement on the school website previously said that the council had objected after the school's contractors had been given approval to start work on the asbestos removal.
Health risk
It prompted concerns that pupils would not be back at Cwmcarn High for the start of the new school year.
But following a meeting between the council and governors on Monday, it was agreed that the council would carry out the work.
In April, Caerphilly councillors had agreed to spend around £1m on the asbestos removal work and temporary classrooms.
The school closed after a council-commissioned report found that asbestos posed a potential health risk.
But in February this year a Health and Safety Executive report said the site was essentially free of asbestos contamination.
Another report in March found there was little difference between the two documents, apart from the conclusions.
Earlier this year campaigners marched through Cwmcarn to call for the school to re-open after the conflicting reports were published.
The council is expected to release a statement later .