Gwent PCC says force in 'better place' without Carmel Napier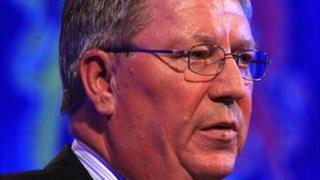 The police commissioner who forced out Gwent's chief constable has told a panel of councillors the force was in a "better place" without her.
Ian Johnston made the comments when he appeared before a panel which monitors his role.
It followed the resignation of Carmel Napier on 7 June, after Mr Johnston ordered her to "retire or be removed".
Mr Johnston has also been called before an influential group of MPs to explain his decision.
Earlier in June, Mrs Napier announced her retirement with immediate effect after a 30-year career in policing, only for it to later emerge that she had been forced out after a series of rows with Mr Johnston.
Mr Johnston - a former chief superintendent in the Gwent force with more than 30 years service - confirmed his ultimatum to Mrs Napier after documents were leaked to the South Wales Argus.
But Mrs Napier fought back after asking whether PCC powers were compromising police independence.
She called on the UK government to look again at the power of PCCs which were first elected in Wales last year.
On Friday, Mr Johnston appeared before the Gwent Police and Crime Panel which oversees the actions of police and crime commissioners (PCC).
Mr Johnston said his actions were within PCC guidelines and he had "overwhelming written evidence" to support his decision.
He said he would not reveal what the evidence was in case his decision was subject to judicial review.
He told the panel he had tried to build a relationship with Mrs Napier but came to the conclusion that "it was never going to work".
Describing his first six months in the job as a "horrendous personal journey", he added: "Gwent Police is in a better place without the former chief constable".
He was asked if he would have done anything differently in his first six months in the job, replying it had been "manic, extremely challenging - I do go home and wonder if I did the right thing in terms of standing, but no".
Mr Johnston told the panel his action was not about interfering in operational policing.
Final decision
Under current laws, a decision to remove a chief constable must be referred to the local police and crime panel, which may ask for a report from Her Majesty's Inspectorate of Constabulary.
However, the panel has no power of veto and the final decision rests with the PCC.
It is expected a new chief constable will be in place by November.
Meanwhile, Mr Johnston will appear before the Home Affairs Select Committee on Tuesday.
He said he was pleased to accept the MPs' invitation and looked forward to discussing his written response to the committee about the chief constable's retirement.
At the time of Mrs Napier's retirement, First Minister Carwyn Jones said it raised questions and there was also criticism by MPs who said Mr Johnston's actions amounted to bullying.
The Home Office said PCCs had given the electorate a "real say" over policing.