'Distressing' attack on Muslim gravestones in Newport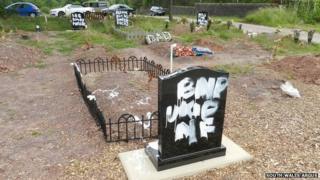 Racist graffiti including swastikas has been daubed on Muslim gravestones in Newport.
Gwent Police are investigating the vandalism to four stones at Christchurch cemetery.
Councillor Ken Critchley said: "Hopefully, it's an isolated incident but nevertheless it's a very distressing one and it's upsetting for all concerned."
The council is to repair the damage.
Mr Critchley, a Labour councillor, said police had "pursued an extensive inquiry into the matter" which was ongoing and added that this sort of attack was uncommon in the city.
"I would say it's generally unusual because Newport has a very multi-cultural approach," Mr Critchley told BBC Radio Wales.
He said people of Somali origin had lived in the city for more than 100 years, adding that there was a "zero tolerance" approach to this sort of vandalism.
"It's very distressing to find that this has occurred," said Mr Critchley.
"Clearly, our interest is looking after the next of kin and returning those gravestones to their original condition."