Shirenewton Tony Coffey death: Driver's community order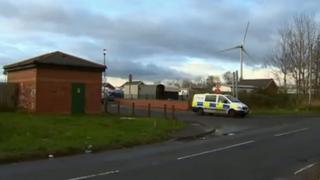 A youth has been given a 12-month community order for causing the death of a seven-year-old boy by driving without due care and attention on a south Wales caravan park.
Tony Coffey was struck by a BMW 3 series estate at the Shirenewton site, east of Cardiff, in December 2012.
Cardiff Youth Court heard the youth, who was 16 at the time, had driven the car at no more than 25mph (40km/h).
"You knew you shouldn't have been driving," Judge John Charles told him.
The teenager had not been in trouble before and expressed "genuine" remorse, his lawyer told the court.
The judge also banned him from driving for two years and told him to pay a £15 victim surcharge.
Tom Roberts, prosecuting, said the defendant - who cannot be named for legal reasons - found keys in the sun visor of the car and had taken it for a drive.
Experts said his highest speed would not have been more than 25mph (40km/h) and was often as slow as 11mph (18km/h).
'Real remorse'
The court was told that after arriving at the Shirenewton site, the youth parked the car to talk to people.
After finishing the conversation, he drove forward and hit Tony Coffey, who was pulled underneath the vehicle.
The youth jumped out of the car and ran to pick him up.
He took the boy to his mother and family members drove him to the University Hospital of Wales in Cardiff.
Staff fought for an hour to save the boy but he died. A post mortem examination found he had died from blunt trauma to the head, chest and stomach.
Mr Roberts went on to say the youth had not been in trouble with the law before.
Gavin Roffer, defending, said the youth had "expressed genuine and real remorse".
He had pleaded guilty at the earliest opportunity to the three charges of causing death by dangerous driving, and driving without a licence or insurance.
'Irresponsible'
He went on to say: "He knows he ought not to have been driving."
Mr Roffer said the collision happened "within a matter of feet" from him pulling off. He added that Tony had been running and leaning forward.
However Mr Roffer accepted that there were aggravating features in that the youth had been driving without a licence or insurance.
Judge Charles said he was mindful of the youth's age and remorse and that the speed had not been excessive.
But he made the point that it had been both irresponsible for him to drive and that the keys were available for him to do so.
He said: "There is nothing I can do to compensate for the loss of life.
"You knew you shouldn't have been driving."
The youth was given a referral order, a community-based punishment for first time youth offenders who have pleaded guilty.