Newport scrap metal dealer 'first in UK' to be fined under new law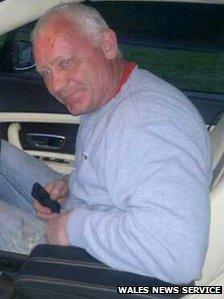 A scrap metal dealer from Newport is believed to be the first in the UK to be prosecuted for not checking sellers' ID under new laws introduced in March.
David Eagle, 52, paid undercover police officers without seeing documents needed to legally sell scrap metal after they said they were not local.
He was convicted of paying for scrap metal with cash and fined £225.
The Scrap Metal Dealers Act was brought in to tackle the estimated 1,000 metal thefts carried out each week in the UK.
Railway lines, statues, plaques and railings are among the metal items stolen costing the country around £220m each year.
Eagle, director of D & E Scrap Metal Ltd, admitted paying for the metal with cash and failing to comply with regulations.
Cwmbran Magistrates Court heard two undercover officers posing as scrap metal dealers were initially told by Eagle that he could not buy their metal as they did not have the correct documentation.
However he changed his mind when one told him they were from Wolverhampton and would not be able to get hold of the documents.
The court was told he then paid £9 for the metal in cash.
Supt Glyn Fernquest of Gwent Police said: "Whilst the problem of metal theft has vastly reduced, there are still those who engage in this dangerous and criminal practice.
"They are only able to operate if unscrupulous scrap dealers flout laws and pay cash without asking questions."
The UK government's crime prevention minister Jeremy Browne said: "Metal theft affects everyone - from the stealing of cables that delay rail journeys home to the theft of church roofs which is extremely dangerous and costs hours of police time.
"The measures we have taken have already achieved significant reductions in metal theft across the UK.
"This new legislation has helped tighten the net around rogue dealers who flout the rules and wilfully purchase stolen metals."