Gwent Police: Carmel Napier's departure brings 'instability'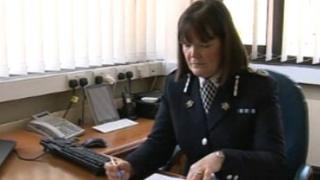 The forced departure of Gwent Police's chief constable has brought instability at a critical time, says a police watchdog.
HM Inspectorate of Constabulary (HMIC) says Gwent faces a difficult challenge with the resignation of Carmel Napier as the force has to save £23.5m by 2015.
Mrs Napier says she was forced to quit following "bullying" treatment by Gwent's police and crime commissioner.
He has denied instability.
Ian Johnston said temporary chief constable Jeff Farrar has been with the force throughout the change process to ensure it has the "stability and leadership required".
He plans to appoint Mrs Napier's successor at the start of September.
Mrs Napier had announced her retirement with immediate effect after a 30-year career in policing, only for it to emerge that she had been forced out after a series of rows with Mr Johnston.
In June it emerged Mr Johnston ordered Mrs Napier to "retire or be removed" as he believed her managerial style was "unacceptably dismissive, abrupt and unhelpful".
The pair were called before the Home Affairs Committee in Westminster in July to give an account of her departure.
"The recent departure of the chief constable brings a level of instability at a critical time for the force," said Dru Sharpling, HMIC inspector for the Wales and western region.
'Austerity'
"This instability will need to be addressed at a time when the force is managing change and developing its future to prepare for continuing austerity while providing safer communities for the people of Gwent.
"HMIC will continue to monitor the force for the remainder of the spending review period."
The HMIC is compiling reports on all police forces as part of its review, Policing in Austerity: Rising to the Challenge, as public bodies deal with changes under the UK government's spending review.
The inspectorate said that over the first two years of the spending review, recorded crime, excluding fraud, fell by 24%, which is "considerably higher" than the average figure for England and Wales at 13%.
The review found that the Gwent force is reducing police officer numbers by limiting recruitment and will have 88 fewer police officers - a cut of 6% - by March 2015 - which is a "smaller reduction than in most other forces".
Police and crime commissioner Mr Johnston said: "The HMIC has acknowledged that the force has prepared and adapted well to making those savings without impacting on the front line and that this hasn't affected the service we provide to residents."
He said temporary chief constable Mr Farrar has been with the force throughout the change process to "continue to provide a police service for Gwent which meets the needs of the communities of Gwent".