Cwmbran fire trial: Serious case review is called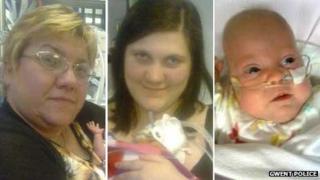 A serious case review will be launched after three generations of the same family were murdered in a house fire.
Kim Buckley, 46, her daughter Kayleigh, 17, and six-month-old granddaughter Kimberley died in the blaze at their home in Cwmbran last September.
Jealous alcoholic Carl Mills, 28, was sentenced on Thursday to a minimum of 30 years in prison.
The Torfaen Local Safeguarding Children Board (LSCB) will conduct the review to see what lessons if any can be learned.
Representatives of Gwent Police, the local health board, education, social services and voluntary agencies sit on the board.
A spokesman for the board said: "The focus of the review is to look at the way in which local agencies have worked and what, if any, changes could be made that would improve the work we undertake to safeguard and promote the welfare of children and young people in Torfaen."
The report will be made public once completed.
During his trial the jury heard how Mills first made contact with Kayleigh via Facebook in August 2010 when she was aged 15, and travelled to Cwmbran from his home in Manchester to meet her in person.
In police interviews Mills said they did not become a couple until just after her 16th birthday.
The court also heard that Kayleigh's mother Kim did not approve of the relationship.
The jury heard how Mills was a jealous alcoholic who sent a barrage of abusive texts to Kayleigh in the hours and days leading to the blaze on 18 September in which he repeatedly threatened to murder her, their baby and burn down the house.
Kimberley, who had been born 15 weeks prematurely and was blind and deaf, had only been released from hospital the previous afternoon after spending her first six months in a neo-natal unit.
A jealous Mills, described by the judge in court as "despicable", resented the attention Kayleigh gave to their daughter and wrongly accused Kayleigh of seeing another man whom he thought was in the house with her the night of the fire.
Mr Justice Wyn Williams told Mills he had condemned the family to "an agonising death - you have shown no remorse".