Wedding ring lost on Great Barrier Reef found by divers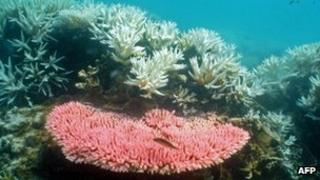 A new husband is celebrating after the wedding ring he lost on his honeymoon on Australia's Great Barrier Reef was found by other divers just days later.
Eirian Evans, 29, of Cardiff, was snorkelling with his bride Bethan off Green Island, Cairns, when the silver ring slipped off his finger into coral.
Scuba school divers searched for the ring for hours with no luck and the couple returned to Wales without it.
But the ring is now back on his finger after arriving by post from Down Under.
Mr Evans had an email in the middle of the night to say the wedding band had been found by another customer of the scuba school who saw it glinting in the coral.
'Gobsmacked'
He said: "Because the ring was new and I'm not used to wearing rings I had been playing with it non-stop since our wedding day.
"I got out of the sea and went to fiddle with it and realised it had gone. I was absolutely gutted as I thought I'd lost it forever.
"When we got back on the boat and said it was missing, two of the scuba divers offered to go and look for it but they couldn't find it.
"They asked me to leave my contact details with them but I thought they were humouring me. I was convinced I would never see it again.
"I was absolutely gobsmacked when I got the email from the diving company saying someone had found it. I couldn't believe it."
The couple, both 29, met at a rugby club when they were 21.
Mr Evans proposed in October last year and the pair married in June before setting off on their two-week honeymoon.
"The trip to Australia was the trip of a lifetime," he said.
"Coming back without the ring was heartbreaking but getting it back like this is the icing on the cake."
Mrs Evans said: "I was so shocked and relieved when we found out someone had found it."
The email said another customer of the Ocean Free scuba school had been on the same snorkelling trip days later and had been looking at the seabed when he spotted the ring lodged in coral.
School co-owner Taryn Agiun, said: "It's a beautiful omen to their marriage, which I think shows they are meant to be together forever.
"It's truly amazing the ring survived, especially because fish often eat shiny or sparkly objects mistakenly for food."