Cygnet dies after stone attack by boys on River Ogmore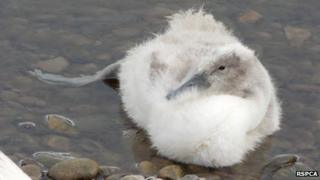 RSPCA inspectors have said they are disgusted by a stone-throwing attack on a family of swans that injured a cygnet so badly it had to be put down.
A witness reported the incident on the River Ogmore at Merthyr Mawr, Bridgend on Wednesday.
Two boys aged about ten were seen throwing stones at the swans before being driven away in a car by adults.
RSPCA inspector Keith Hogben condemned what he called a "mindless attack".
Direct hit
The animal charity said a member of the public raised the alarm after witnessing the attack at around 15:45 BST.
In a statement, the charity said: "One of the stones directly hit the cygnet and the witness described how the adult birds tried in vain to get the cygnet out of the water but it kept falling over as its leg appeared to be broken."
Insp Hogben found the swan family on a shale bank and took the cygnet to a local vet who confirmed its femur was smashed.
The bird was put down.
"I am disgusted by this attack on a young, defenceless swan. The poor animal didn't stand a chance," said Insp Hogben.
"The swans have lived on this part of the river since 2006 and had produced two eggs this season.
"Sadly their only surviving cygnet has been killed because of this mindless attack.
"We need to trace the people responsible immediately and urge anyone with information to contact us straight away."
The witness was unable to take the registration of the car in which the boys were driven away.