Porth BMX bike track 'best in community policing', says EU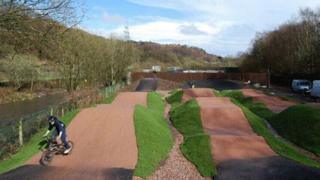 A south Wales valleys bike track is being praised as an example for police across Europe to engage youths and cut anti-social behaviour.
The Trehafod BMX project in Porth, Rhondda opened in 2009 after residents complained youths were riding their bikes dangerously in the area.
It is the result of work by South Wales Police and the Welsh government's Communities First initiative.
The track is to feature in an EU list of good community policing projects.
Trehafod's neighbourhood beat manager Pc Nigel Bird led the initiative after local youths keen on BMX biking told him they had nowhere to ride.
After developing the south Wales force's first youth Pact (Partners and Communities Together) group, the project secured £30,000 funding from Cymmer Communities First.
Since it opened, South Wales Police said the number of bicycle-related incidents reported by the public had fallen by almost half.
Earlier in July Pc Bird showcased the results of the project to an international policing seminar in Naples, Italy.
The event, backed by Association of Chief Police Officers (ACPO), was attended by police from countries including Bulgaria, Estonia, and Ireland.
He said: "It was amazing to learn that police officers in all corners of the European Union face the exact same kind of problems that we do in south Wales.
"The BMX track was the result of lots of hard work by many different organisations, and one thing I was particularly keen to do was convey the importance of partnership work to all my peers at the event in Naples.
"There's lots of great stuff that goes on to tackle crime and anti-social behaviour across south Wales, and indeed in the rest of the UK, but it was clear that lots can be learned from much further afield too."
The European Commission is to include the bike track in its list of best and promising practices in EU community policing in 2014.