New playground opens in Newport three years after it is built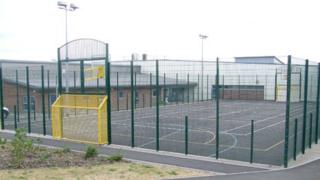 The keys to a children's playground that has been locked up since it was built three years ago have finally been handed over to a community centre.
The multi-use games area (Muga) in Alway, Newport, was built by a housing developer as part of a regeneration scheme with the city council.
But a contracts dispute left it locked up and unable to be used by scores of youngsters on the estate.
Community centre chairman Dave Jones said: "It's a relief to have it open."
Mr Jones said the floodlit, fenced-in playground, painted with the markings for basketball, football, netball and tennis, was the envy of the estate when it was built.
The facility was part of a wider development of more than 100 residential properties and was one of the first elements of the scheme.
He said: "It took a bit of time and effort but this was built in the first phase and not tagged on at the end.
"A lot of councils are now looking at doing it this way but at the time this was a first."
However, the keys were not handed over to the community centre because of a dispute between the developers and Newport's local authority.
Despite this, the community was given access to the playground to hold a fun day one weekend two years ago after Mr Jones gave his personal assurance that the keys would be returned on the Monday.
But the playground returned to being locked in the weeks and months that followed.
The community centre went public about the situation a few weeks ago, with dozens of youngsters protesting about the continued closure of the site that they should have been using.
Earlier this month, workers returned to spring clean the playground and the keys are now in the possession of the community centre.
Sports groups have used the playground ahead of a formal opening planned for 10 August and a summer programme of activities is being planned.
Mr Jones said: "It's brilliant to see the kids in there - some were just in there walking round - that's what it's all about.
"It's a great relief to have it finally open and we're looking forward to it being used."
A spokeswoman for Newport council said it "sympathises with the frustrations of residents".
She said: "Unfortunately there were issues over land ownership which have only just been resolved and the Muga is now open for use."
A spokesman for developer Bellway Homes said: "We are delighted that the multi-use games area has now opened following longer than expected contractual negotiations."