FAW votes to admit Barry Town United to Welsh League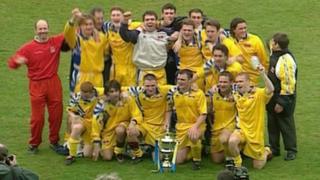 The Football Association of Wales (FAW) has voted to admit Barry Town United into the Welsh League's Third Division.
The move followed last week's High Court ruling that the FAW had acted unlawfully in not allowing the club in the league.
The court battle was after the previous owner withdrew the club from the league
FAW president Trefor Lloyd Hughes said its council did not have much choice following the legal decision.
Barry Town FC was withdrawn from the league in May by its previous owner but the club's lawyers argued in court he was not involved in running it for two seasons.
The name was changed to Barry Town United by fans who had been running the club but they were denied full FAW membership.
The original club has a history dating back more than a century.
From the mid 1990s, the Jenner Park outfit won seven Welsh Premier titles in eight seasons and represented Wales in Europe.
Ill afford
A High Court judge in Cardiff ruled the FAW had acted unlawfully.
The FAW said after Friday's hearing it accepted the court's decision and would act on the recommendation made.
"The law of football is the law of the land so that takes priority," Mr Lloyd Hughes told BBC Radio Wales, after an emergency meeting of the FAW council.
He also agreed the matter could have been handled more amicably.
"I think we could have handled it much better than we have - there's no doubt about that.
"We've learnt from the decision but obviously it's cost us a lot of money we could ill afford and where grassroots football and football in Wales could have done with that money."
The emergency meeting of the FAW council was held in Cardiff ahead of the Wales v Republic of Ireland friendly international.
The council also agreed to allow Llanelli Town into the Welsh League's Third Division and for Bettws AFC to remain there.
It also granted dispensation for the division to play with 19 teams.