PTSD: Mother of dead soldier warns of service suicides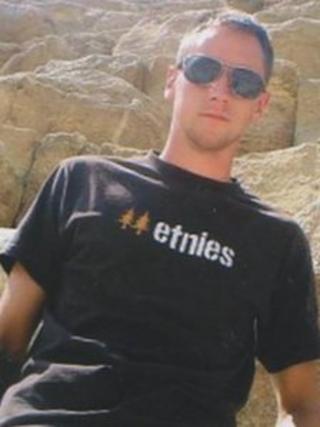 On the anniversary of his death, the mother of a soldier has warned post traumatic stress disorder (PTSD) could cause a "big wave" of suicides and crime unless the government acts.
Richard Hunt, 21, from Abergavenny, died after an explosion in Afghanistan in 2009.
His mother Hazel has worked extensively with service veterans as part of the foundation set up in her son's name.
She wants GPs to be trained to help ex-servicemen with mental health problems.
Pte Hunt was the 200th British serviceman to be killed in the Afghanistan conflict.
In July, the BBC revealed more British soldiers and veterans took their own lives last year than were killed in action.
Current affairs programme Panorama reported discovering 50 cases of suicide amongst serving soldiers and veterans in 2012.
This figure was much higher than the seven confirmed military suicides that the Ministry of Defence reported to Parliament.
Spotting symptoms
One of the cases the programme highlighted was that of Welsh Guardsman L/Sgt Dan Collins from Pembrokeshire who killed himself on New Year's Day 2012.
Mrs Hunt worked on a TV documentary about her son's death four years ago and spoke to three senior military leaders who warned that services were not in place to cope with the wave of PTSD which was to come. She said the situation was still the same.
As she spoke out against the war she also set up the Welsh Warrior Richard Hunt Foundation to help service personnel and their families, and to cope with her own loss.
Through that foundation she has come into direct contact with people suffering from PTSD.
"These lads and lasses don't get any help and GPs don't recognise the symptoms of PTSD," she told the BBC News website.
"There was one guy I spoke to who went to the GP for help and he ended up comforting her as she was in tears as she knew nothing about PTSD."
Mrs Hunt said help would be needed for the soldiers who will be leaving Afghanistan when Nato forces are withdrawn by the end of 2014.
"I want the government to invest in the services that can help people suffering from PTSD.
"They need to push more to get the knowledge through to GPs, clinics and mental health services.
"At the moment its very patchy, very hit and miss. They need to be trained to recognise it, to know who to pass these people on to."
And she warned: "If they don't get help or the treatment that they need, an awful lot of people are going to be committing suicide or committing crimes."
Plaid Cymru MP Elfyn Llwyd, who chairs a Westminster working party looking at improving services for soldiers, said he agreed with Mrs Hunt.
"I'm afraid she's absolutely right and, more to the point, we are dealing with the tip of the iceberg," he said.
The MP added that PTSD can develop a week after a soldier returns from a war zone or 12 years later.
"A lot of these young servicemen and women have seen the horrors of the theatre of war which will develop into PTSD," he said.
"Everybody who leaves the service should be assessed and the backup should be there. But it isn't."
'Very cynical'
Mr Llwyd said there was a clinic in Cardiff which served people from mid and south Wales and he was trying to set up another in north Wales after one in Llandudno closed several years ago.
Mrs Hunt, a former nurse, said: "It's not a matter of politics. I'm apolitical but I'm very cynical. Consecutive governments have continually failed to sort this out."
Pte Hunt, a member of the 2nd Battalion, The Royal Welsh, died after he was injured in an explosion and flown back to the UK.
A four-day Welsh Warrior festival - now an annual event - will take place over the Bank Holiday weekend in Abergavenny starting on Friday, what would have been the soldier's 26th birthday.
The Ministry of Defence said the mental health of its personnel and veterans was a "top priority for the government".
"That is why we have committed £7.4m to ensure there is extensive mental health support in place for everyone who needs it," said a spokesperson.
"Medical experts and clinicians working in our armed forces and across the NHS are committed to providing the best possible care to all those that have bravely served their country and to ensuring a smooth transition from the armed forces into the NHS."