Six people needed to rescue 12-stone St Bernard dog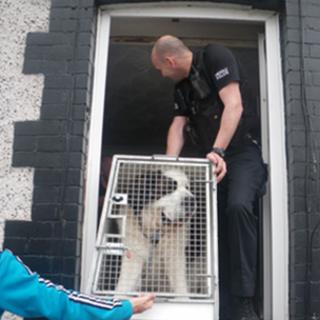 A St Bernard dog needed rescuing itself after the RSPCA was called to a report of abandoned pets at a house in Rhondda Cynon Taf.
Six people were needed to carry the dog, weighing around 12 stones (75kg), from the terraced house in Mountain Ash.
The breed has a long association as a rescue dog in the Swiss Alps.
The RSPCA suspect the owners left the dog behind, along with cat and a hamster.
The dog was lifted through the window by three police officers, two members of public and RSPCA inspector Gemma Cooper.
'New homes'
The officers had to go through the front window of the house as there were no keys available.
The animal charity said the three pets appeared to be "in reasonable condition" despite the time on their own.
Ms Cooper added: "Unfortunately we are seeing many abandoned animals at the moment.
"People are moving house and leaving their animals behind or even going on holiday and leaving pets at home.
"If people have pets they cannot care for, for any reason, then help and advice is always available from the RSPCA and other animal charities."
The animal charity said the pets would be found new homes if the owners did not come forward within 14 days.
The RSPCA said anyone with information is asked to contact them on 0300 1234 999.