Cardiff Airport expansion plan wins web vote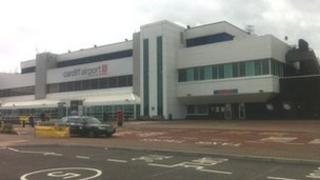 An ambitious idea to make Cardiff Airport a new western hub airport for Heathrow has beaten other plans for UK air capacity expansion to win an online poll.
The Western Gateway plan wants to extend Cardiff's runway so larger aircraft can land and to build a high-speed rail line link to London.
The plan won 54% of a vote offering 11 competing ideas.
An independent group, Fly Cardiff, said the plan was "essential".
The poll was held on GlobalAirportCities.com, an online community for people attending the annual Airport Cities World conference and exhibition.
Western Gateway presented its plan to the UK government last year which would see the airport's capacity expanded.
The Airports Commission headed by Sir Howard Davies is considering how to expand the UK's capacity, and will report back by 2015.
There are a total of 29 proposals under consideration, including expanding Heathrow, using other regional airports such as Birmingham and Manchester, and building an airport in the Thames estuary.
'Greater access'
Kelvin Hayes, Lawrence Evans and John Dellarmi, who founded Fly Cardiff to lobby for more routes and business at Cardiff, had contacted Global Airport Cities to have the proposal included when the poll was opened.
They said: "There has been much hype in the media that Cardiff Airport could become Heathrow Terminal 6, but for Welsh passengers it is not so much of a proposal as an essential requirement.
"Welsh passengers want routes back that were once available and were only lost because of airline collapse and not as a consequence of lack of passengers, across the Atlantic, to the UAE and beyond.
"With the recent landing of the A380, the world's largest aircraft, at Cardiff Airport, many passengers are asking how long it can be before there is greater access to international travel from Cardiff Airport."
The poll received over 450 votes.
A spokesman for Heathrow said it was clear the UK needed a single hub airport.
He added: "The best solution for taxpayers, passengers and business is to build on the strength we already have at Heathrow.
"Our proposals show that vision can be achieved whilst keeping the impact on local residents to an absolute minimum."
Professor Brian Morgan of Cardiff Metropolitan University, who is part of the Western Gateway group, said: "It's very pleasing for us because we were seen to be very much a non-runner, so it's great.
"What we're trying to do is motivate some enthusiasm in parliament for it and to that extent we're trying to organise an event in parliament to get some cross-party support for it."
He added that even if the Davies commission recommended some expansion at Heathrow, the Western Gateway plan was not incompatible with it.