Newport garden village named after munitions worker Ruby Loftus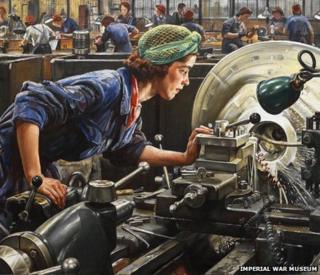 A Royal Ordnance factory site from World War II could house Newport's first garden village if plans are approved.
It would be named after munitions worker, Ruby Loftus, who was the subject of an iconic wartime painting.
The developers plan 250 "arts and crafts" houses for the site.
The painting of Mrs Loftus at work by Dame Laura Knight is part of a current exhibition of the artist's work at National Portrait Gallery in London.
The ordnance site rose to prominence in the war when Dame Laura was commissioned to paint a portrait of one of the factory's workers.
Mrs Loftus, then 21, had been brought to the attention of the War Artist's Advisory Committee as an "outstanding factory worker."
She had mastered complex engineering skills in a very short space of time.
The painting shows her manufacturing a Bofors Breech ring used in anti-tank anti- aircraft guns.
This was considered the most highly skilled job in the factory and normally required eight or nine years training.
There was however some suggestion that she was deliberately posed at the machine for propaganda purposes.
Dame Laura had expected to paint a studio portrait of her, but the Ministry of Supply requested she be painted at work.
The derelict site of the factory is now proposed to be turned into a garden village. Initial planning permission has been granted and it is expected to be given full approval later in September.
Members of Mrs Loftus's family are expected to attend a launch day for the Loftus Garden Village development on Monday at the former factory site near Telford Street, Newport.
The day will follow a 1940s theme, with period decorations and music, where developers Seren Group will unveil their proposals for the site.
There will also be an exhibition on Mrs Loftus, including excerpts from her diary.
She died in 2006 just weeks before the painting went on display in Newport for the first time.