Legionella bug: Cardiff's Eastern High School stays closed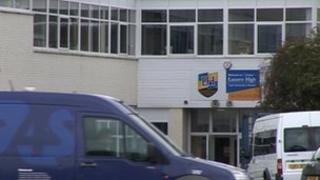 A new "super-school" will remain closed to pupils on Monday, after the bug responsible for Legionnaires' disease was found at the site.
Eastern High School in Cardiff was shut on Wednesday after routine tests found traces of the legionella bug.
The school, bringing together 1,500 pupils from Rumney and Llanrumney high schools, only opened its doors for the first time on Monday.
Officials insist the bacteria discovery is a "low risk" to health.
A spokesperson for the school said: "Unfortunately Eastern High will need to remain closed on Monday in order for essential maintenance work to be completed following the discovery of legionella bacteria during a routine test at the school.
"Work will continue throughout the weekend on the school's water system.
"The legionella bacteria is of low risk to health and is commonly present in the environment.
"It cannot be transmitted from person to person or as a result of drinking water or hand washing."
Easily controlled
Public Health Wales has been notified of the discovery, and confirmed earlier last week that it was not investigating any cases of Legionnaires' disease.
The bacteria is commonly found in the natural environment. It only becomes a health risk when it is able to multiply in a closed environment, later being inhaled in water droplets.
The Legionnaires' infection can lead to a potentially fatal strain of pneumonia.
However, the bug can be easily controlled through chlorination of water storage areas.
"Usually in these cases there is unlikely to be a risk to public health, and once the work is successfully completed staff and pupils should be able to attend school as normal," said a spokesperson for Public Health Wales.
Staff at Eastern High said the school closure on Monday would be taken as an in-school training day for teachers, replacing a date initially set aside for 25 October.
"We apologise for the inconvenience this continues to cause," added the spokesperson.