Nolan Recycling fined £250,000 after skip lorry crushed man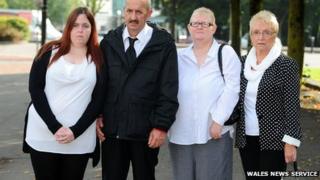 A recycling firm must pay more than £300,000 after a man was crushed to death by a skip lorry, the Health and Safety Executive (HSE) has confirmed.
Geraint Eagle, 21, of Nant-Y-Moel, near Bridgend, was killed as he worked at a waste site run by Nolan Recycling Ltd in Pyle on 2 December 2010.
The lorry driver did not see him and Mr Eagle suffered fatal head injuries.
At Cardiff Crown Court on Wednesday Nolan Recycling was fined £250,00 and ordered to pay costs of £53,100.
The HSE, which investigated the incident and prosecuted the company for serious safety breaches, said Mr Eagle was driven over by the lorry while he was cleaning sensors on a weighbridge.
Mr Eagle had only worked at the site for six months before his death.
Cleaning equipment
The court heard that he had been told to clean mud off sensors on the weighbridge.
He had not done the job before and worked alongside a more experienced worker, who also watched for vehicles.
However, after taking a break, Mr Eagle returned to the cleaning job alone, lying down to clean the sensors.
When a skip lorry drove onto the weighbridge, Mr Eagle picked up his cleaning equipment and moved out of the way, the court was told.
The driver then left his cab to check in at the site office.
Mr Eagle returned to his work and was at the front of the lorry when the driver returned.
The driver did not see Mr Eagle because he was in his "blind spot," the court heard.
When the lorry moved off, the labourer was struck. He died at the scene.
Rebecca Griffiths, prosecuting, said: "Any labourer working was clearly in danger if the lorries came onto the weighbridge during the process.
"Geraint lost his life because of a failure by management to put in a safe system of work."
The HSE uncovered a series of failings by Nolan Recycling.
'Multiple failings'
It found the company failed to appreciate the risks associated with the site and give full instructions, guidance and training to staff.
It also did not monitor and supervise staff, particularly Mr Eagle or devise a transport policy to segregate people from vehicles and provide a system of proper maintenance for equipment like the weighbridge.
It also failed to prepare a health and safety plan.
Nolan Recycling Ltd admitted breaking Section 2(1) of the Health and Safety at Work Act 1974.
After the hearing, the victim's father, Paul Eagle, also from Nant-Y-Moel, said: "We all miss Geraint very much. This tragedy has had a huge impact on the family.
"I hope other businesses will learn lessons from this and put workers' safety first. No other families should have to go through what we have been through."
The HSE's Sarah Baldwin Jones called it a horrific incident with tragic consequences.
"It left Mr Eagle's girlfriend without a partner, and his son, born eight months after the incident, without a father," she said.
"There were multiple failings at the site, which should have been obvious and could easily have been addressed."
She said Nolan Recycling should have closed the weighbridge while the work was taking place and had a clear written risk assessment.
"There can be no excuse for companies in the waste industry not taking reasonable steps to safeguard their workers as there is a wealth of information and guidance from trade bodies as well as the HSE," she said.