Gwent Police deputy Jeff Farrar in line to replace Carmel Napier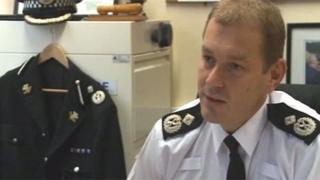 The deputy of Gwent Police's former chief constable who resigned after an order to "retire or be removed" is in line for the job it has been announced.
Carmel Napier quit in June after an order from police and crime commissioner Ian Johnston.
Jeff Farrar, her deputy who has been temporary chief constable since then, has now been named as the "proposed candidate" for the top job.
The Gwent Police and Crime Panel will have to confirm the appointment.
Mr Farrar, who has served as a police officer for 29 years, joined Gwent Police from neighbouring South Wales Police in 2009 having been appointed as assistant chief constable.
He was then promoted to deputy chief constable in April 2011.
Following an interview on Monday, Gwent Police and Crime Commissioner (PCC) Mr Johnston named Mr Farrar as his "proposed candidate", saying he was the "kind of leader Gwent Police needs at this time".
"During the time I have worked with Jeff Farrar he has proved himself to be a highly competent and effective officer, " he added.
The decision will now be referred to the Gwent Police and Crime Panel - which oversees and scrutinises the PCC - on 8 November for it to confirm the appointment.
Gwent Police said Mr Farrar was the only candidate to apply for the role, which comes with a £133,068 a year salary.
It comes after a police watchdog said the forced departure Mrs Napier brought instability to Gwent Police at a critical time.
HM Inspectorate of Constabulary (HMIC) said in July that the force faced a difficult challenge as the force has to save £23.5m by 2015.
In July, Mrs Napier told MPs on the Home Affairs Committee that she was forced to resign following "menacing and bullying" treatment by the force's police commissioner.
Mr Johnston denied the allegations and that the resignation had caused instability.