Bust of Methodist founder John Wesley unveiled in Monmouthshire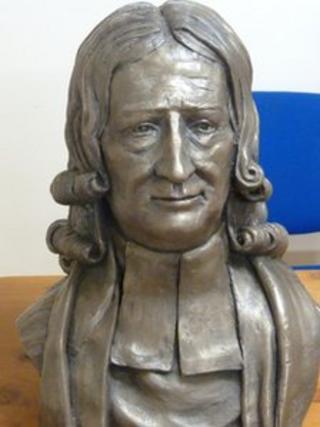 The man who sparked off almost 300 years of non-conformist religious tradition in Wales has been commemorated with a bronze bust.
John Wesley, founder of the Methodist Church, preached to a crowd of around 400 at Devauden, Monmouthshire, on 15 October, 1739.
A subsequent tour fuelled a religious revival in south Wales.
The bust was unveiled in Devauden on the anniversary of his first Welsh sermon.
Although Wesley himself favoured reform from within the Church of England, he was frequently shunned by the establishment.
So his bust is on the village green, where he preached after being refused entry into the local church.
'Spirit and salvation'
The Reverend Lin Healey, deputy chair of the Methodist Church's Wales Synod, who unveiled the bust, said it was no surprise Wesley's attempts to democratise religion found particular resonance in Wales.
"At the very start of the industrial revolution Wales found itself with a growing working-class population who weren't being catered-for by the Church of England," she said.
"Traditionally, they'd been discouraged from studying or questioning the scripture, and preached to by a hierarchical system. But Wesley's message was that everyone, regardless of their status, could find evidence of God's spirit and salvation within them."
"He encouraged ordinary labourers to study the bible and preach to each other in classes, so you begin to see the emergence of an educated poor.
"That's why it's no surprise that Welsh Methodism and liberalism developed hand-in-hand."
Wesley's tour of south Wales in 1739 took in Abergavenny, Pontypool, Usk, Newport and Cardiff.
'Devout believer'
Wesley was ordained into the Church of England in 1725 and remained a member until his death in 1791.
However, his religious views were heavily influenced by his contact with German and French non-conformist clergy during his missionary work in the American colonies.
In May 1738 he claimed to have experienced a profound discovery of God in his heart which prompted him to undertake a UK-wide tour to preach his revelation.
"Wesley was a devout believer in the sanctity of the Bible, he called himself a one book man, even though he was actually extremely well read."
"But his skill was to be able to interpret the scriptures and preach them in terms which were readily accessible," Ms Healey said.
"His 44 sermons remain at the heart of the training all us Methodist ministers undergo, and the basic premise of all of them is to discover God's love by sinning as little as possible against as few as possible, whilst always going the extra mile to do as much good for the widest number of people."
The Wesley bust has been funded by donations from people in Devauden and local Methodist churches.