Cardiff University football ban after sex tips show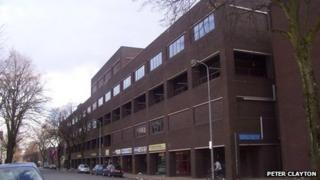 A university football team has been banned from playing for two weeks after one of its members allegedly made joking references to rape and domestic violence at a social event.
The Cardiff University player mocked his lack of success with women but spoke of girls of low self-esteem who were "easier to have sex with".
The team has been suspended from sport venues and football club activity.
University officials have condemned the "gross breach" of the student code.
The football team has also been barred from playing Swansea University in the annual Varsity sporting competition, and the club has been instructed to develop equality training for its members.
The incident was reported to the student union's Gair Rhydd newspaper.
The comments were said to have been made in a PowerPoint presentation at a joint social event held by the club along with a student dance society, called FAD, at Cardiff's Vulcan Lounge nightclub on 6 November.
The paper reported: "The content of the presentation was based around a self-deprecating analysis of the club member who delivered it and his lack of success attracting girls.
"It then proceeded to focus on how to spot girls with low self-esteem as they 'are easier to have sex with', according to those in attendance."
One dance group member told Gair Rhydd: "It was totally unacceptable. All of the girls were forced to the front to watch a PowerPoint which made light of girls with low self esteem, spiking girls' drinks, domestic violence and even rape.
"These are all real life issues facing women (and men) today and we should not have to deal with this kind of 'lad culture' anywhere, but especially in the university environment."
Steve Wilford, the students' union director of membership, imposed the ban following an inquiry.
'Judgement'
"In my 12 years of dealing with students' sport, this is the first time I've ever had to take the decision to prevent people from playing," he said.
The dance group, FAD, disassociated itself from the evening's events.
"It is important to acknowledge that this presentation was given by CUFC; Fad was not aware of its content or even that it would be shown and in no way endorses or condones any of the views expressed," it said in a statement.
"Whilst it was evident to everyone in attendance that the presentation represented a serious lack of judgment and was an error on behalf of the football boys, their immediate unreserved apology, and remorse expressed, indicated that there was no malicious intent and that the presentation was intended as a joke (despite being wildly inappropriate and misplaced)."
'Gross breach'
The Students' Union, Athletic Union and University Sport said in a joint letter to the football committee there were no mitigating circumstances and no justification for the members' actions.
"We have heard no suggestion that any individual or committee member present made any effort to intervene, nor was any retrospective action taken until the matter was brought to our attention," they said.
A university spokesman said: "The university is aware of a complaint received by the Students' Union regarding the conduct of the football club at a social event. The university strongly condemns any conduct that demeans either women or our culture of equality and diversity.
"This marked a gross breach of the university's student code, the Athletic Union's behavioural code and fell short of basic respect and decency."