15th Century altar screen at Llancarfan church restored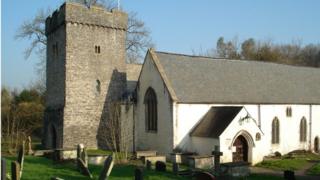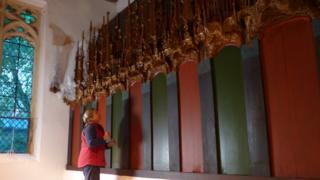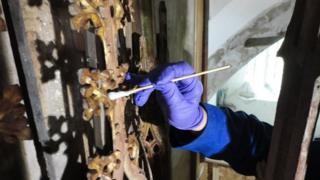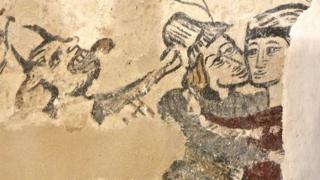 After six months of painstaking restoration a 15th Century altar screen in a small church in the Vale of Glamorgan will be revealed once again.
The restoration of the intricate screen in St Cadoc's at Llancarfan near Barry marks the end of a four year major conservation project.
Medieval wall paintings of the St George and the Dragon and the seven deadly sins have also been found there.
But experts still do not know how the church came to house the screen.
One theory is that the screen possibly began life somewhere else and only moved to Llancarfan when it was 200-years-old in the mid 1600s.
That area of the Vale of Glamorgan was a centre of Christianity from early days
'Sophistication'
There was a monastery from at least 650 AD.
By the 9th Century Llancarfan was a flourishing centre of learning, and the church itself is though to date from about 1200.
The imposing screen has been present for centuries but has now been restored to its original gilded colours.
Hugh Harrison, one of the conservators, said: "Canopy work like the reredos (altar piece) at Llancarfan can be found in the choir of almost every cathedral and major church in England and Wales, but none of these grand arrays of woodwork are coloured and gilded as at Llancarfan.
"This lively, polychromatic scheme lifts this work to quite another level of sophistication.
Enthusiasm
"It is also unique in using simple metal brackets to display the ornate pinnacles in front of the general canopy spires as though they float by magic - a daring concept not found anywhere else."
More than £350,000 of grant funded work has been carried out on unveiling the church's impressive wall paintings and restoring the screen over four years.
On Thursday the public will get the chance to see what has been completed.
Archdeacon of Llandaff and Priest-in-Charge of Llancarfan, Peggy Jackson, said: "Since work began in 2010, this conservation project has prompted visits by people from all over the world.
"We have been gratified by the support and funding help we have received but we have also been touched by the enthusiasm and joy which the church has generated amongst its supports and the wider public."
Pictures have been uncovered of a royal family and what has been described as one of the largest and most spectacular tableaux of St George and the Dragon ever seen in a British church.
Penny Fell, the organiser of the evening celebration at St Cadoc's, said they believed that there were still more revelations to be found in the church fabric.
Six of the seven deadly sins have also been uncovered but its thought there could be corresponding deadly virtues also hidden there, she said.