Viridor signs deal with five councils over Cardiff incinerator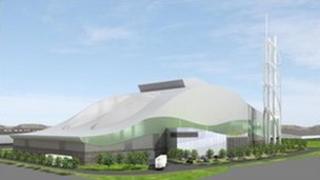 A waste company behind a planned £185m incinerator has signed a deal with five south Wales councils to create green energy from rubbish.
Viridor's 25-year contract with Prosiect Gwyrdd, a council consortium, would convert rubbish left behind after recycling and composting.
Work to build the controversial incinerator at Trident Park near Splott was approved by Cardiff council.
But the issue is the subject of a judicial review.
Viridor claims the contract will save the consortium - formed by Caerphilly, Cardiff, Monmouthshire, Newport and the Vale of Glamorgan - £11m in the first year of operation and £500m over the contract's lifetime compared with current arrangements.
The plant will receive more than £100m from the Welsh government over 25 years.
The project is expected to start in September 2015 and the company said 40 jobs will be created.
Cardiff Against the Incinerator (Cati) group has campaigned against building the plant, which began in July 2012.
The High Court heard Cardiff council published a consultation notice concerning the required approvals on 19 July last year and the following day, Viridor began works on the site.
A judicial review was granted and it will be heard in the High Court next week.