Son fits QR code on war hero father's gravestone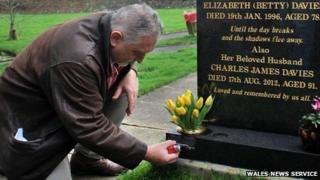 A son has fitted a barcode on his war hero father's gravestone in Bridgend so that visitors can learn about his life.
The QR (quick response) code can be scanned using smart phones to access a webpage about Charles Davies.
The former merchant seaman, who died last year aged 91, took part in the Arctic convoys during WW2.
Known as the "journey to hell", more than 3,000 men died on the convoys which took supplies to the Soviet Union from 1941 to 1945.
Joe Davies said he hit upon the idea for the barcode through his IT job using QR codes in public parks to tell people more about the plants and trees.
"It struck me how easy it would be to use it to tell people about what an incredible life my father had," he said.
Scanning the code takes visitors to a webpage which tells how Charles James Davies was born in 1921 near Pontypridd and was one of seven children.
As well as information about his time being hunted by German U boats during World War Two, there are also reminiscences from his friends and even clips of family tributes and audio of hymns and prayers from his funeral.
"When I was younger I didn't have the greatest relationship with my father - but that changed in my early 20s and we became best friends," said Mr Davies.
"He was a very interesting character and went through a heck of a lot during the war. That really had a massive influence on him as a person."
Elsewhere, the codes are already used extensively as marketing tools and also to mark everything from historical sites to popular walks.
In Denbighshire the technology is being used to explain to visitors why more than 80 Canadian war graves are located outside St Margaret's Church in Bodelwyddan.
Most died during a flu epidemic at the end of World War One.