Ole Gunnar Solskjaer welcomed by fans as new Cardiff manager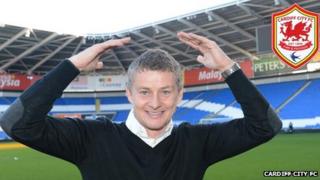 Cardiff City fans have welcomed the appointment of Ole Gunnar Solskjaer as the club's new manager but have called for regular dialogue with the owner.
The 40-year-old former Manchester United striker and Norway international met his new squad at the club's training ground on Thursday.
Cardiff City Supporters' Trust said it hoped for a "period of stability".
Vince Alm, of Cardiff City Supporters' Club, said: "His inexperience at this level is a bit of a worry."
The confirmation of Solskjaer in the job has ended uncertainty and speculation for Bluebirds fans after former manager Malky Mackay was "relieved of his duties" on 27 December.
The ongoing dispute between Mackay and the club's Malaysian billionaire owner Vincent Tan came to a head following the side's 3-0 home defeat to Southampton on Boxing Day.
Tan had already given Mackay a "resign or be sacked" ultimatum and it was Tan who was seen to target Solskjaer as Mackay's replacement.
He sent his private jet to collect the Norwegian on Wednesday morning and the pair were in the directors' box at the Emirates Stadium in London as Cardiff lost 2-0 at Arsenal.
Cardiff chairman Mehmet Dalman has insisted the Norwegian was the club's only target.
Solskjaer's choice of Cardiff ahead of other teams vying for his skills is a plus in Tan's relationship with fans, according to Mr Alm.
'Difficult task'
He said: "It's a good appointment in that other clubs have been chasing him. That gives us a lot of good feeling, but his inexperience at this level is a bit of a worry.
"People say he is a very good coach and he was one of the best players in the world. It's how he communicates that and how he integrates with the style of play that we've got and how he manages the team that's important.
"It has been very difficult. As a club, both on and off the pitch, our image has been tarnished."
Cardiff City Supporters' Trust said Solskjaer's appointment was "exciting".
In a statement it said: "It is important that he is now left to get on with the difficult task of ensuring the Bluebirds' status as a Premier League club is secured. We wish him well.
"Given what has happened at the club over the last couple of months, there is need for a period of stability. It is important that fans get behind the new manager and players as they strive to move up the Premier League table.
"Following Ole Gunnar's appointment, we trust Mr Tan will now fulfil his pledge to meet the trust and the supporters' club to discuss a range of issues which fans are concerned about.
"We hope Mr Tan will also look to build bridges with supporters. It is absolutely crucial that regular dialogue takes place between Mr Tan, supporter organisations and the fans generally."