Head teacher Jane Vaterlaws 'bullied' staff and parents, tribunal hears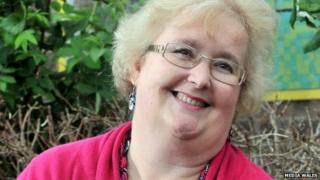 A head teacher bullied and intimidated staff and parents at a Cardiff school, a tribunal has heard.
Jane Vaterlaws was accused of behaviour which led to numerous complaints at St Albans RC Primary School.
These included falsely accusing a six-year-old pupil of drawing a sexually explicit picture, the General Teaching Council for Wales (GTCW) hearing was told.
Ms Vaterlaws has denied all 24 allegations against her.
She is facing allegations of serious professional incompetence and unacceptable professional conduct.
Ms Vaterlaws was head teacher at St Albans, in Tremorfa, from September 2003 until September 2012 when her contract was terminated by mutual consent.
An interim executive board took over the running of the school following an inspection in 2011.
Ms Vaterlaws was investigated by GTCW after a series of complaints were made against her.
Allegations include claims she accused a six-year-old pupil of drawing a sexually explicit picture before threatening to involve social services.
It was later discovered that the drawing was made by another child and no similar threat of social services involvement was made.
Rosa Fernandez, who presented the case to the GTCW panel, said Ms Vaterlaws shared information about a pupil with the child's father - who was serving an eight-year jail term - despite a court order preventing him from having contact.
'Financial mismanagement'
She also allegedly asked an underachieving pupil to stay at home ahead of an inspection, and failed to correctly deal with an incident where a child was "throttled" by another pupil.
Ms Vaterlaws is also said to have inappropriately controlled the school's Parents and Friends Association fund, showing a "total lack of concern" for the accuracy and accountability of the financial controls in place.
The panel heard she also misrepresented key stage 2 targets in a governors' report to parents.
Ms Fernandez said: "As you can see we are not dealing with one isolated incident.
"There are lots of different incidents comprising of serious financial mismanagement, bullying or intimidation and breaches of confidentiality."
The GTCW hearing was told parents launched a petition calling for Ms Vaterlaws' removal.
In April 2011 the local education authority served a warning notice on the school, and Ms Vaterlaws was suspended.
Disciplinary procedures were started in January 2012 but hearings were suspended after she was diagnosed with severe depression.
Her contract with the school was later ended by mutual consent.
The most recent inspection of the school by Estyn last summer showed improvements had been made in both the management and pupil performance.
A letter from Ms Vaterlaws' solicitors said she had decided not to attend or be represented at the hearing in Cardiff, which is expected to last three days.