Lostprophets' Ian Watkins: Claims paedophile could have been caught sooner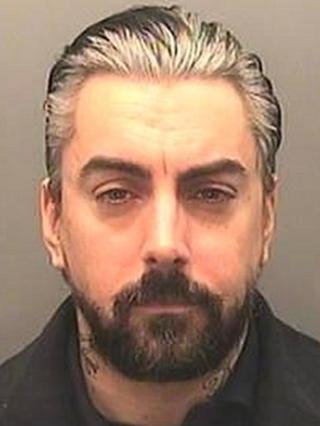 Calls have been made for an inquiry into claims paedophile rock star Ian Watkins could have been caught sooner.
BBC Wales has new evidence that social services were told in 2008 about a young girl who was pictured with what was claimed to be cocaine.
Rhondda Cynon Taf council said it acted "in line with agreed procedures".
The Pontypridd-born Lostprophets singer was jailed for 29 years last December after admitting a catalogue of serious sex offences involving children.
Watkins, 36, admitted the attempted rape and sexual assault of a child under 13 but pleaded not guilty to rape.
He also admitted conspiring to rape a child, three counts of sexual assault involving children, seven involving taking, making or possessing indecent images of children and one of possessing an extreme pornographic image involving a sex act on an animal.
After Watkins has served his prison sentence, he will spend another six years on licence. Two women who are the mothers of the children he abused were also jailed.
Known only as Woman A and Woman B, they were jailed for 14 and 17 years respectively.
But Watkins is seeking leave to appeal against the length of his jail term. The Court of Appeal last month confirmed an application had been lodged.
Former escort Joanne Mjadzelics, who had a sexual relationship with Watkins, said she told social services of her concerns five years ago.
"It was repeated calls about the same little girl," she told the BBC's Week In Week Out programme.
"Every time I knew that my complaints weren't going anywhere with the police I would back it up by going to social services and saying 'Can't you do anything about this?'"
In 2008, Ms Mjadzelics said she told police about her concerns that Watkins wanted to abuse children.
She also said she sent police and social services a picture of a child which Week In Week Out has seen.
It shows a young girl aged about four holding a photo frame with a razor blade and a line of white powder on it. In her other hand is a rolled up £20 note.
Ms Mjadzelics says Watkins told her the white powder was cocaine.
The girl's father says he also went to social services and the police. He says when he reported his concerns, he was told "not to pursue it anymore because it could ruin Ian's career".
Rhondda Cynon Taf council social services said they did take action "in line with agreed procedures" following Ms Mjadzelics's report to them in December 2008.
'Large inquiry'
But they refused to comment on claims they were repeatedly contacted, and declined to say if any review into their actions is taking place.
David Niven, an expert in child protection and former chairman of the British Association of Social Services, said there needed to be an inquiry to establish what exactly happened between social services and the police, and to see if lessons can be learned.
"Because of the numbers of children involved, the number of forces involved, the number of professional people involved in decision making, some kind of large inquiry really needs to happen that will be transparent and be educative for the rest of professionals up and down Wales and England," he said.
The Independent Police Complaints Commission (IPCC) is investigating a detective sergeant from South Wales Police for gross misconduct, as well as the way he was managed.
South Wales Police said it has already identified issues of concern, and voluntarily referred the matter to the IPCC.
In the wake of the case, South Wales Police has said it has "improved and strengthened" its responses to complaints of child abuse.
The IPCC is also investigating South Yorkshire Police and Bedfordshire Police, but it is not expected to conclude its investigation for several months.
Week In Week Out: The Valleys Boy Who Became a Monster - Tuesday, 18 February on BBC One Wales at 22:35 GMT.